We had the chance to talk to Suzanne van Straaten, an enthusiastic, passionate and green entrepreneur, who is the founder of Sprinklr.co. After several years of trying to make the world a better place on behalf of other companies, Suzanne decided it was time to take control and started her own company. Find out more about her background, how she entered the startup world, and what she predicts for the Dutch startup ecosystem.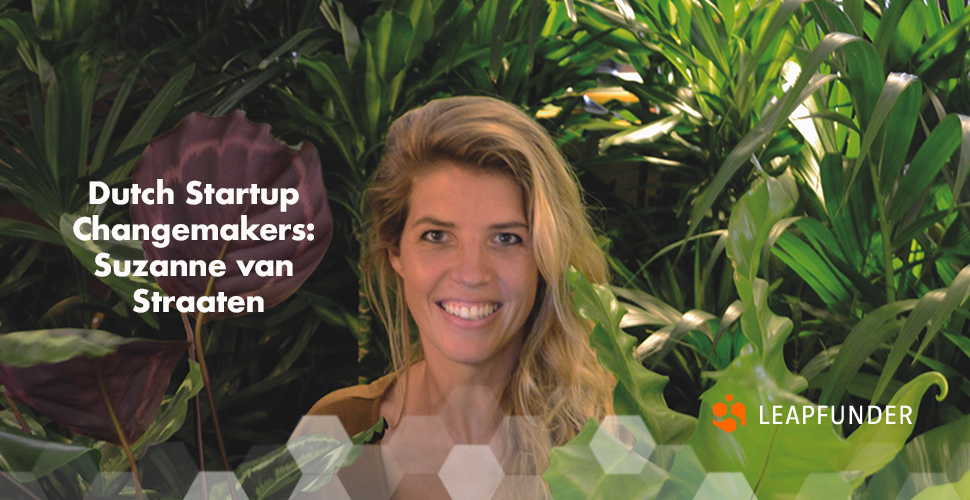 1. Hi Suzanne, thank you for agreeing to do the interview. Could you tell us a bit about your background and how you entered the startup world?
My pleasure. As for my background information, I have a law degree but I never professionally used it. I started working for PostNL, which is the biggest postal company in the Netherlands. The main cause I started working there was due to their partnership with the World Food Program. I have always been interested in organizations that make an impact or try to make a positive change. I had the opportunity to work in Africa for some time with WFP. Subsequently, I switched careers to an organization that is called the 1%CLUB. (one per cent club). This corporation is a crowdfunding platform for people who want to create a transformation for either someone closeby or far away. This means that you can jump-start a project in Kenya, but also one in your street. By doing this type of work, I got to know many changemakers a lot better. I saw their drive, and that was the moment that something sparked within me. I decided to create something that would make a positive change as well
2. You're a founder at Sprinklr.co. Tell us about your mission and role there. 
Sprinklr is on a mission to make cities more green. We do this by connecting people to nature, especially giving people in the city centre the chance for a better connection to fauna and flora. By putting plants in your garden or on your balcony, you are capable of doing something beneficial for our ecosystem. However, placing plants can also be harmful depending on the plants and whether pesticides were used or not. Besides greening up cities, we also want to encourage people to purchase more organically grown plants and inspire growers to switch their methods and become fully organic.  
3. What is it about entrepreneurship that particularly attracts you?
One of the fundamental things that made me want to be an entrepreneur is the ability to create something that was non-existing. Another key drive for being a businesswoman is creating a positive change. Both are also part of who I am as a person. Even while I was working for a corporation, I always took a very entrepreneurial role. Every task became a project on its own, my project. Besides that, in every position, I had a lot of freedom. For me, that is a necessity when creating things.
4. Please share the top 3 lessons for other founders you learned over the years.
The first lesson is to be resilient. Besides having ups and downs in your private life, this happens in your business as well. When you're experiencing an up moment, you feel sky-high; however, when you encounter a down moment, it is incredibly intense as well. You are building something very fragile in the beginning. Over the years, I have learned to deal with the ups and downs. Sometimes things look so tricky, and you think you won't be able to solve the problem, and then, later on, you find yourself thinking 'that wasn't so hard after all.' 
The second lesson is to be perseverant. There will be people that like your idea, and there will be people that assume it is never going to happen. But in the end, it is you who should proceed if you believe in the project. You should not let people tell you what to do or what not to do, or if something is going to work or not. It comes down to believing in yourself, and if you do, then go for it. 
The third lesson is to start. People have a tendency to make plans and then make them better but never put them in action. The single reason Sprinklr is here is because I started and worked out my ideas into something tangible. When I founded Sprinklr, I went to a garden centre where I spent the entire summer asking people questions about plants. If I had not done this, all my ideas would still only be on paper. You have to get out there and start!
5. What do you predict for the Dutch startup ecosystem in the near future? What are your plans? What will you focus on?
We are all codependent on this planet. We tend to forget that we are not above nature, we're part of it. My hope is that more organisations will base their success on what they contribute to the planet in terms of social and ecological impact, rather than just extract for their own financial benefit. I believe it will be crucial to the startup ecosystem to start focusing on social and ecological problems, rather than just market opportunities.
As for Sprinklr, we are growing quite fast both in the consumer and B2B market, therefore I would like to continue this rapid growth and become more financially sustainable. Besides this, I hope to increase our impact on how many square meters of biodiverse outside landscape there is. I hope that people will surround themselves with more plants in the future. 
Thank you for sharing your story, Suzanne. We wish you the best of luck in your future endeavours! 
Join our network of startups & investors!