RefundMe is a platform that digitises the VAT refund process for tourists, retailers, airports and governments. Their IoT-based solution enables the government to validate purchases automatically without the need for manual intervention. With their solution, all stakeholders benefit from the process. Find out what type of investors they're looking to attract and why they chose Leapfunder as their online funding platform.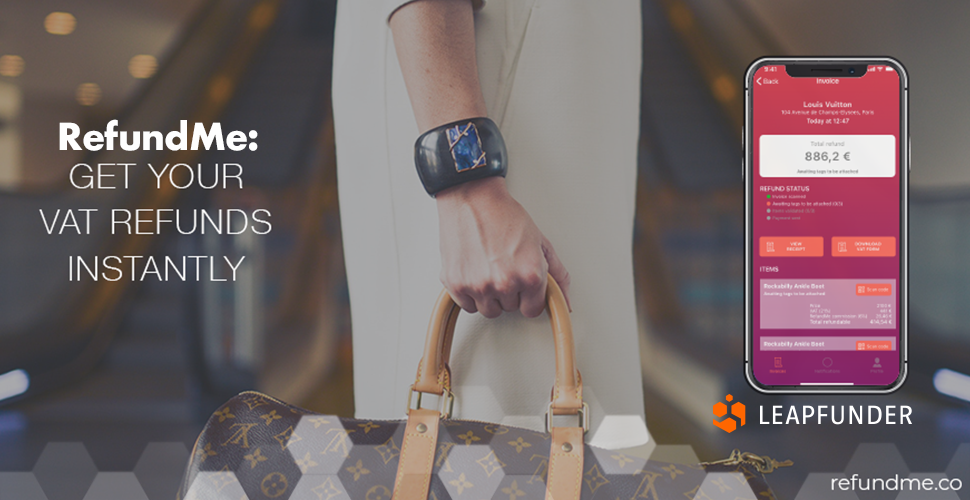 1. Hi Jerome, thank you for agreeing to do the interview. Tell us about RefundMe, the idea that got it all started and the amazing team behind it.
I started RefundMe back when I was attending business school in Madrid. A big consulting firm announced a FinTech challenge in which the prize would be a job interview at their firm. I joined with a group of classmates and came across the VAT refund problem after reading some reviews of the current players online. We eventually made it to the finals but didn't win. Fast forward to graduation, I decided to do it full time and risked not getting a job to validate the real potential behind the concept. I spoke to 3 governments, 10 airports, and a handful of retailers and discovered that there is indeed a huge problem in the industry, all within 6 months of graduating. In January 2018, I posted an ad looking for a CTO on AngelList and Csaba responded as he had just moved to Madrid after working in Berlin. We met up the same day, had a click, and started working the day after.
2. What problems are you trying to solve? What are the benefits of your product, and why is it a product-market fit?
Tourists have been going to Europe for shopping for a couple of decades now. A big part of their shopping experience is claiming the VAT refunds. Unfortunately, the process is really complicated and time-consuming. They have to fill up forms, collect receipts, and queue up for hours in the airport.

The reason why they have to queue up is that they need to show proof they are leaving the EU with the items and the only real way for them to do that now is to have customs manually inspect their purchases. As you can imagine, it causes a lot of problems, especially during the summer when most of the tourists flock to Europe.
Unlike our competitors, we don't just digitise the form-filling part of the process. What we offer is a new way to have their purchases validated without requiring them to queue up. We've created a process that allows the government to automatically detect purchases as a tourist goes through the airport.  Our process benefits the tourist because they can validate their purchases more quickly but also the retailers (they can offer a better customer experience), airports (no more congestion at their properties), and governments (they can be sure that all refund requests are valid).

The tags are tamper-proof, so once the retailer attaches them at the moment of purchase, they cannot remove it or else the chip inside will die. Our process benefits the tourist because they can validate their purchases more quickly but also the retailers (they can offer a better customer experience), airports (no more congestion at their properties), and governments (they can be sure that all refund requests are valid).
3. How much growth potential do you see for RefundMe and what type of investors are you looking to attract?
We definitely see a lot of growth potential not just in RefundMe itself but also in the travel retail industry in general. The number of tourists is just going to continue to increase, especially in Northern Europe. We're seeing a trend where they start their trip in the South (typically Spain) and leave the EU from the North (Amsterdam, Dublin, Helsinki, etc.). On average, the growth rate of international tourism in Europe is 8.9%, and the industry is expected to be worth around 123 billion by 2023.

This is good news for us because it means that there will be a steady (and increasing) stream of tourists that will be asking for their refunds. The infrastructure of airports in Europe did not take this into consideration so it's expected that the VAT refund problem will just get worse every year. Governments and airports have already said they cannot keep up with the demand, and that hiring more people is the right solution. RefundMe can definitely help with that as our solution does not require any manual intervention from anyone.
We're looking for investors who have also been entrepreneurs themselves. Apart from the investment, what we're looking for mainly, is advice and guidance from people who have done it before and understand the limitations that a company at our stage has. Investors that have experience/connections within the travel/retail industry are also highly valuable for us because it is such a small community in the sense that everyone knows everyone.

Most importantly, we are looking for investors that can be our mentors in the long run. RefundMe is aiming big by tackling a huge problem that hasn't improved for twenty years, but this serves as an opportunity for us to actually change how the industry works.
4. You chose Leapfunder as your online funding platform. What makes it the right tool for your startup, and what do you expect from the round?
Leapfunder is a great platform not just because of the tool itself but because of the people behind the platform. Rutger and Tienko have been super helpful advising us on our campaign and constantly checking if everything is running smoothly. In terms of the platform itself, it's really intuitive and easy to use. Although we are interacting with angels through the platform, we also use it as a marketing tool whenever we meet qualified leads in events or networking sessions. It's so convenient to have all information in one place that investors can check without having to constantly send them materials over email.
5. What are your plans for the upcoming months? Tell us about your go-to-market strategy and the plan to acquire customers.
We will focus on getting to the market by this summer. We've already acquired our first retailer (Ace Jewelers, the 3rd largest chain in the NL) as a pilot retailer, but we have upcoming demos with the likes of McArthurGlen (owners of the Roermond Fashion Outlet), Bataviastaad, Schaap en Citroen, and Unibail Rodamco Westfield (the biggest shopping mall developers in the world).

Apart from the retailer side, we are working closely with the Royal Schiphol Group and the Dublin Airport Authority in getting feedback on our platform. We've been running these experiments/feedback sessions with these airports for the past two months, and they've been very enthusiastic about our platform.
On February 15th, we held a private product demo at our office in B.Amsterdam. In the demo, participants can try out how our platform works in real life. Confirmed attendees included Dublin Airport, Schiphol, Heathrow, KPMG, PwC, and Rabobank. The response has been really positive, and we're holding demos on a rolling basis for investors. Interested parties can send me an email at jerome@refundme.co.
Thanks a lot for sharing your story with us, Jerome. We wish you the best of luck in your future endeavours!