Social media advertising is a fast-moving global industry, where "influencer" is THE buzz word. Influencers are the new stars shining in their shows with their specific audience. Adeezy offers a global influencer directory service, which allows brands or media agencies to check influencers worldwide. Influencers will become their most prominent advocates, and with a large pool of them, brands will join the platform to boost their campaigns. Find out how they use advanced technologies such as Blockchain and AI, what kind of investors they're looking to attract and why they chose Leapfunder as their online funding platform.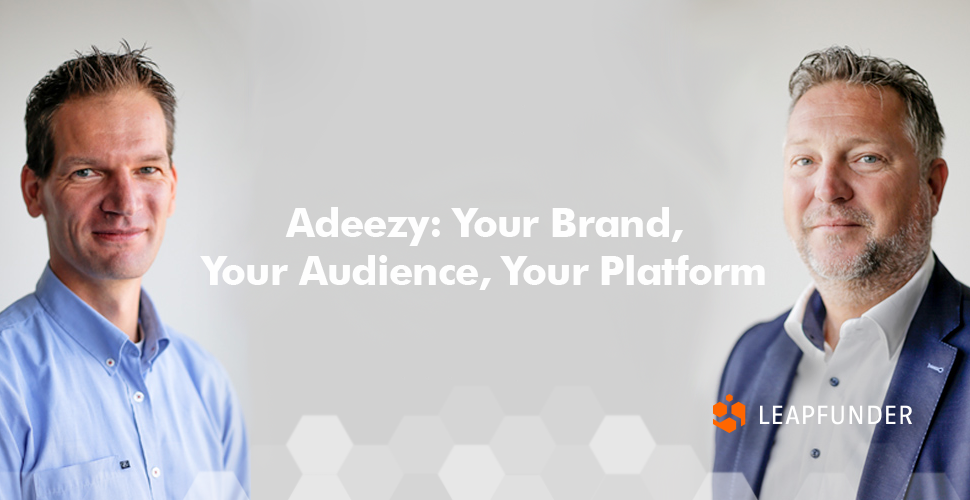 1. Hi Marco and Dominique, congratulations on launching your Leapfunder funding round! Tell us about your entrepreneurial route, the idea behind Adeezy and your amazing team who helps you rock it!
Dominique and I have been working together for over a decade in high technology. We have been building broadcaster networks across the globe, and the last years the focus has been on advertising insertion and targeted advertising in these broadcaster networks. This is what has drawn us into the advertising space. After an intensive validation, we discovered that Influencer Advertising is the fastest growing part of the advertising industry with a lot of challenges. With all the data collected through the validation, we designed and started to build the Adeezy platform.
We took the technical angle where our competition typically comes from the advertising industry, builds something that doesn't scale and misses the latest technologies and made it more cost efficient. Our platform is rock solid; it can scale indefinitely.  
The influencer advertising space is HOT and will keep on growing. But it is a relatively young industry and still a bit of wild west. Adeezy will bring structure into this chaotic market. We have been working with the best engineers for blockchain, AI, front end and back end development.
2. With many advertising platforms out there, what would you say makes Adeezy stand out? Who is your target audience?
Our knife needs to cut on both ends, on one end for the advertisers and on the other for the influencers. Our influencers will become our most prominent advocates, and with a large pool of them, brands will join the platform to boost their campaigns. We offer a global influencer directory service, which allows brands or media agencies to check influencers worldwide.
A huge differentiator is that we are using advanced technologies like Blockchain and AI.  By using the blockchain technology, more specific smart contracts, we can handle all "micro" payments very efficiently and without any dispute. Artificial Intelligence is used for our influencer discovery and outreach, checking if a post is meeting the campaign targets and assisting the community reviewing workforce. No other platform offers Community Reviewing as we do.
3. Investors always want to know the unique benefits and potential for return when investing. How much growth potential do you see for Adeezy and when do you predict it will start generating income?
With the current investment, we foresee to become cashflow positive mid next year. The consecutive four years after, we expect to double in revenue year over year, bringing us to around 8M € revenue in 2023. This results in a 6x – 10x times return of investment. Even if we calculate our conservative business plan with a 60% achievement, we foresee to become cash flow positive with the current investment but need to lower the costs and growth rate. This is still resulting results in a 3x – 5x times return of investment in 2023.
4. What made you choose Leapfunder as your online funding platform? What would you say are the benefits of using convertible notes, both for Adeezy and your potential investors?
Leapfunder is a young and very active group with a solid platform. As a startup that is just signing up the first customers, it is hard to determine the value of the company. A convertible note is a good vehicle for both the investor and the company to get together in this early stage, boosting the potential capital gain when the startup grows.
5. What's next for Adeezy? Tell us about your go-to-market strategy; what is your plan to acquire customers?
With the MVP ready we are starting initial campaigns with launching customers. We just did the first one with Proximus in Belgium. We have several launching customers lined up for initial campaigns.
We will attract advertisers by offering one of our strongest USP's, the option to find and scan over 1 million influencers in all corners of the world. Offering this immense pool of influencers with all the data and their audience reachability, real followers etc. makes Adeezy the most powerful tool for advertisers in the world.
Offering influencers guaranteed payment, an administration toolkit and exposure to global brands will make them stick to our platform and turn them into a global sales force. We are organising "Meet and greet" events in the Benelux region to get influencers to sign up and will attend shows to pitch to advertisers.
Thank you for sharing guys. We wish Adeezy the best of luck!