Discovered is an impact artisan marketplace, changing the jewelry industry by empowering artisans worldwide while providing consumers with exceptional, high-quality, and unique artisanal products. In our chat with the CEO, Andrew Cameron, find out how their business model is designed and learn more about their live round on Leapfunder.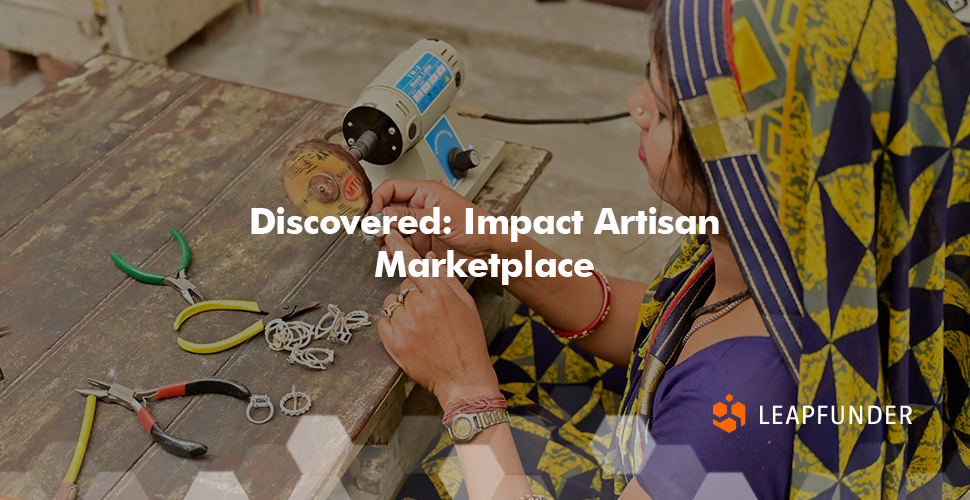 1. Hi Andrew, thank you for agreeing to do the interview. Tell us about Discovered, the idea that got it all started, and the amazing team behind it.

I'm a former corporate professional turned entrepreneur, driven by creating a better world for my two sons. I left my comfortable corporate job to focus on building companies that influence sustainable buying decisions. I started a sustainable fashion marketplace, where I served as a leader for two years before it, unfortunately, closed down, and in 2021, I had the opportunity to lead the management turnaround at Discovered. I was thrilled to join a small team of passionate individuals and participate in a business that had immense potential to positively impact artisans in emerging countries while helping customers make sustainable buying choices.

The full-time staff consists of the three of us: Our Operations Director, based in India, is critical in maintaining a close relationship with our network of artisans. With direct contact and local proximity, they have an in-depth understanding of our artisans' capabilities, needs, and the beautiful stories behind their work. Our Marketing Manager, based in Nepal, spearheads our brand communication and customer outreach initiatives. Their profound understanding of the local culture and international marketing landscapes allows us to reach our target audiences effectively. Their passion for ethical and sustainable practices helps maintain a positive and empowering relationship with our artisans, central to Discovered's mission.
Since the new leadership was appointed, Discovered has experienced exponential growth, generating over $1.5 million in sales in the past two years alone—a remarkable 155% increase from the preceding two years. Discovered has the privilege of collaborating with over 100 artisan businesses from eight emerging countries worldwide. These partnerships encompass an extensive network of skilled individuals, with the businesses collectively employing upwards of 400 talented artisans. Our mission is to uplift these craftspeople and their communities by ensuring they receive fair compensation for their remarkable work.
Over the past four years, we've channeled over $1.6 million directly to our artisan partners. This figure is a testament to the quality of their creations and the demand for such products and reflects our commitment to promoting fair trade and supporting sustainable livelihoods. Every purchase made on our platform contributes directly to this income, making a tangible difference in the lives of our artisan partners and their communities. By choosing Discovered, our customers are acquiring a unique, handcrafted product and supporting the craftspeople who poured their talent and passion into creating each piece.
2. What problems are you trying to solve? What are the benefits of Discovered?
At Discovered, our primary mission is to empower artisans in emerging markets by facilitating their successful transition into the global marketplace. We function as an online platform selling handcrafted products ethically sourced directly from these skilled craftspeople. By streamlining the traditional supply chain, we ensure artisans receive a fair and sustainable income for their work while providing our customers with unbeatable value and authentic, high-quality products.
We aim to solve artisan businesses' challenges when attempting to sell their products internationally. Discovered isn't merely an online marketplace but a comprehensive solution offering services designed to help artisans thrive in the global market. This includes marketing consultancy, professional photography, content creation, and operational support encompassing onboarding and customer service solutions.
Artisans only incur charges when they make a sale, significantly reducing their financial risk and making it easier for them to participate in the global economy. Discovered is the bridge between these talented artisans and a world of customers seeking unique, responsibly sourced products. By partnering with Discovered, artisans gain the tools and support they need to expand their businesses, and customers gain access to a diverse range of exceptional products that tell a story. It's a win-win model that champions sustainability, cultural preservation, and economic empowerment.
3. You have a live round on Leapfunder. What makes it the right tool for your startup, and what do you expect from the round?

Having personally known the founders of Leapfunder for over eight years and having had the opportunity to see their platform's value firsthand during my early startup days, I have unwavering confidence in their quality and expertise. Additionally, our Marketing Advisor, Mark Studhome, has successfully completed three funding rounds with Leapfunder for his interior design marketplace, which further attests to the platform's effectiveness and credibility.
For this live round on Leapfunder, our goal is to secure the necessary funding and cultivate a group of investors who align with and support our core values. We believe in creating long-term impact, empowering artisans in emerging markets, and promoting sustainable business practices. To see these goals to fruition, we are keen to attract investors who resonate with this mission and are excited about contributing to the realization of our vision.
Through Leapfunder, we anticipate forging relationships with like-minded individuals or organizations willing to embark on this impactful journey with us. We trust this platform will provide the necessary conduit to connect us with those who share our commitment to ethical business and social impact.
4. How much growth potential do you see for Discovered?
The growth potential for Discovered Marketplace is significant. The burgeoning global demand for authentic, handcrafted, and ethical products that are also affordable presents a considerable opportunity for expansion. We're uniquely positioned to satisfy this growing market need in the context of increasing consumer consciousness about sustainability and social responsibility.
Our recent partnership with Noivca is a key indicator of our commitment to growth. With the potential integration of over 10,000 unique artisanal products (to build on our current offering of 18,000), we've expanded our offering and appeal considerably, enhancing our capacity to cater to a wider range of consumer needs and tastes.
Strategically, we're investing in partnerships, technology, and customer experience to drive our growth. By doing so, we're strengthening our market position and increasing our potential for future revenue generation. By 2025, we're projected to reach $5 million in annual revenues, showing clear and consistent growth. It's also important to note that our marketplace model is highly scalable. Our growth potential multiplies as we form new partnerships and add more artisans and products to our platform. The more unique, high-quality items we offer, the more we can attract a diverse customer base and increase sales.
5. What are your plans for the upcoming months? Tell us about your go-to-market strategy and the plan to acquire customers.
Our roadmap for the upcoming months is three-fold, focusing on logistics improvements, market expansion, and maximizing sales in the peak season. Firstly, a key priority is to enhance our logistics system to ensure quicker and more reliable shipment times. We understand the importance of delivering our products promptly and efficiently to our customers. By streamlining our shipping and delivery processes, we aim to improve customer satisfaction, boosting loyalty, and encouraging repeat purchases.
Secondly, we're setting our sights on new markets with an initial B2B offering. Recognizing the opportunity in the B2B sector, we believe our unique, handcrafted products will resonate well with businesses seeking quality artisanal items. Our approach will involve strategic partnerships and tailored marketing strategies to engage potential business clients effectively.
Lastly, we're preparing for Q4, a significant selling season for our jewelry range. We'll ramp up inventory, marketing efforts, and customer service to capitalize on this period fully. Our strategy includes creating compelling holiday campaigns to drive sales and attract new customers.
In terms of customer acquisition, we're developing a multi-faceted approach. This includes leveraging digital marketing channels like social media and email marketing, SEO for organic growth, collaborations with influencers and relevant brands, and referral programs to incentivize word-of-mouth marketing.
Thank you very much for sharing your story. We wish Discovered the best of luck.
Join our network of startups & investors!