We had a chat with Alain le Loux, a partner at Cottonwood Technology Fund which focuses on pre-seed and seed investments in disruptive technology startups. Find out how he entered the startup world, what is it about the startup world that particularly attracts him, and what he predicts for the Dutch startup ecosystem in the future!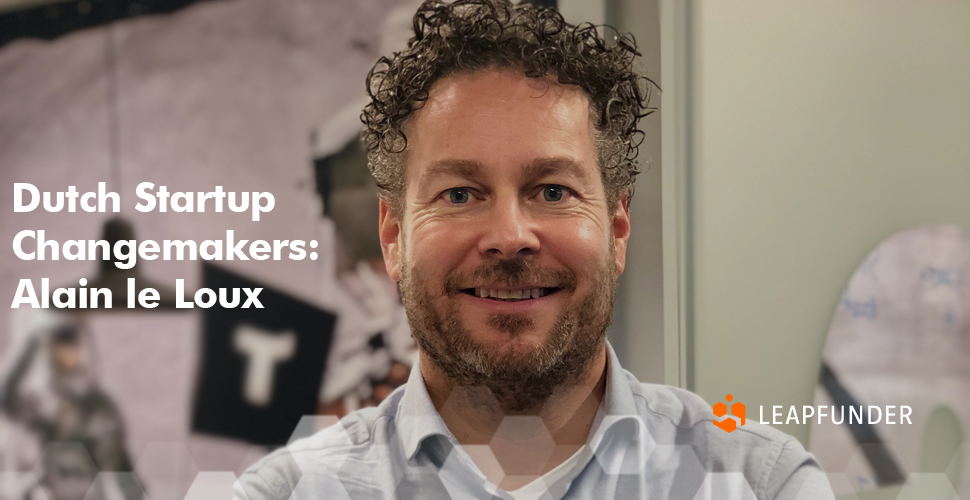 1. Hi Alain, thank you for agreeing to do the interview. Could you tell us a bit about your background and how you entered the startup world?
Thanks for having me! I studied at the University of Twente and graduated in 1994 with a double Master's degree. Afterwards, I started my career at a big corporation in the IT industry. I was responsible for a division with over 1.000 employees and €100 million in revenue. Then in 2001, I graduated cum laude from an Executive MBA, that had a strong focus on marketing and strategy. In 2002 I became a board member in some startups in the Twente region.
In 2008 I was solicited by investors to become CEO of a high-tech startup in the Netherlands. However, the startup exited within two years. Nevertheless, I decided to stay in the startup scene instead of going back to my corporate career. After the exit of the high-tech startup, I was asked by Novel-T to coach the spin-offs of the University of Twente and help build the entrepreneurial ecosystem around the university. In 2010 I was asked by the European Institute of Innovation & Technology to set up an accelerator program for digital scaleups all over Europe. Since then, I coached over 200 companies. Between 2010 and 2015, I became an angel investor and invested in 14 different companies in the Twente region. Since 2015 I am a partner of Cottonwood Technology Fund.
2. You're a General Partner at Cottonwood Technology Fund, a top-performing early-stage venture capital fund. Tell us about your mission there!
Our mission is to invest in disruptive technologies, such as hardware companies with strong patents and no prior art. We invest in the pre-seed/seed stage. Almost 90% of our investments have no revenue when we step in. We take that risk if the company has significant market potential, including disruptive technology, to discover the world. We mostly like to invest in photonics, robotics, semiconductors, high-tech health, nanotechnology, sensor technology, clean energy and advanced materials. Lastly, our geographical focus is Northern Europe and Southwest USA. 
3. You're also a keynote speaker about venture capital, startups, unicorns, valorisation, disruptive technology and entrepreneurship. What is it about the startup world that particularly attracts you?
What attracts me the most is the considerable risk and the adventure; not knowing what will happen tomorrow or down the road, but with a clear focus, direction and motivated team. Many people underestimate the difficulty of managing a fast-growing startup.
4. Could you share the top 3 lessons for founders you learned over the years in the startup world?
I usually share the top 10 lessons for startup founders in my keynote presentations, but if I had to create a top three, they would be the following: 
The first one is that most startup founders underestimate the time before the company is making a profit. So my advice is to focus on cash planning and fundraising. You should know that this is a continuous activity. 
The second one is to talk to potential customers as early as possible. You need to figure out what they want, how to make them happy and what they are willing to pay for product or service you're offering. 
The last one is that many startups have a lack of senior sales in their team. It's crucial to attract an industry expert with over 20 years of relevant sales experience. 
5. What's the next big thing in the startup world? What do you predict for the Dutch startup ecosystem in the near future?
The biggest challenge for Dutch startups is currently access to growth capital. I expect an increase in the availability of capital in the Dutch ecosystem. However, the current corona crisis will be a tough hurdle. Especially Series A and B rounds for companies without revenue will be challenging to raise in the Netherlands. Most VC's focus on revenue first, while in the USA, the focus is on the endgame and the global market potential.
Thank you for your insights, Alain! We wish the best of luck in your future endeavours!