We interviewed Bas (44) and Joachim (39), general partners at Acrobator Ventures, the Growth Hack VC that invests in tech founders in the pre-seed and seed stage to early Series A. Their mission is to identify talented founders from Eastern Europe and the Netherlands and support them with smart money and growth marketing know-how. They are in the final stages of raising the fund, already investing in parallel. Find out how they entered the startup world, what it is about the startup world that particularly attracts them, and what they predict for the Dutch startup ecosystem in the future!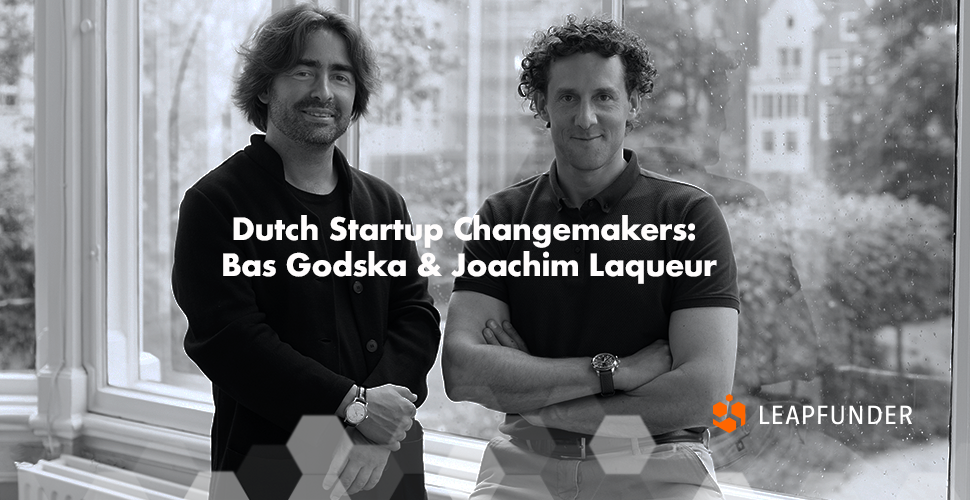 1. Hi Bas and Joachim, thank you for agreeing to do the interview. Could you tell us a bit about your background and how you entered the startup world?
Thanks for having us!
Bas: I started my professional career in a Dutch law firm and then pivoted to become an e-commerce entrepreneur in Australia in 2000. Three years later back in Europe, after stints at lastminute.com (Brussels) and ebookers.com as CMO Europe (Amsterdam, London) I found myself in Moscow in 2008. At the helm of the biggest Russian e-commerce company, I realized that my know-how was years ahead of the local competition. Being a Digital Dutchman that speaks both Russian and digital marketing, I was the only foreigner in my niche; this put me in the spotlight of entrepreneurs looking for advice. Soon after, I started my growth hack and marketing agency Acrobator.com, catering to Eastern and Western companies in need of digital skills. Pretty quickly, also startups started looking for advice, offering equity and investment deals. 
With two smart ex-McKinsey partners I co-founded the leading Russian online tour packages aggregator Travelata.  After a productive six years in Russia, I moved back to Amsterdam and Kiev and had become one of the most active angel investors in the CIS-region. The nice results of the ten years of investing forms the basis of our new fund.
Joachim: I started my career as a consultant involved in corporate finance and strategy. After a year or two, I concluded I wanted to be on the other side of the table. The opportunity came along to become a co-founder of a biofuel startup in Austria, raising €27 million. I never went back to corporate life. For a decent amount of time, I combined startup advisory work with the toughest role I ever had, being a dad at home. 
In a way, I've always been involved with startups and venture capital. From my teens to university and beyond, I grew up in a VC environment. My father and his business partner (Bas' mentor) set up the first venture capital investment firm in the Netherlands. Talking about investments was regular dinner talk. During my university years, I did internships at Harvest Partners (NYC) and DN Capital (London) as well as helping out older friends with their business ideas.
2. You're the General Partners at Acrobator Ventures, a fund that invests in great tech founders from Pre-seed to early Series A. Tell us more about your mission there!
Our mission is to identify promising founders from Eastern Europe, as well as the Netherlands, and get them ready for an investment by a Tier 1 Series A VC. Eastern Europe in general, and the CIS region specifically, is still very much overlooked by Western seed-stage VC's. However, those regions are home to a great deal of very successful scaleups and startups, yet hard to access. As it stands, we are the only Western (Dutch) pre/seed-stage VC operating locally out of Kiev, next to our HQ in Amsterdam.
We believe a disproportionate number of new global tech companies will emerge out of the region over the next decade. Did you know Ukraine is the 4th largest country in the world in terms of IT-related skill sets?
We bring those startups westwards so they can unlock their full potential; business development goes West, tech stays regional benefitting from much lower costs. In other words, this means incorporating them in a Western jurisdiction, providing them with growth hack support, and a range of other services to get them ready for their Series A. 
3. You both have a very broad experience as an entrepreneur and advisor. What is it about the startup world that particularly attracts you?
We love the high-paced growth and getting a thrill from identifying high potential founders. It's rewarding to be able to apply our entrepreneurial experience. We also love operating internationally at the bleeding edge of innovation with smart people and diverse networks of driven dreamers & do-ers. It's fascinating to be part of a story where a founder grows a company from startup to unicorn in less than four years after investing. 
4. Your passion is helping founders, so please share with them the top 3 insights you obtained over the years in the startup world.
The first advice is to be brutally honest with yourself concerning your ideas. In other words, remember that failure is an option that can lead to something new. Barend, before founding portfolio HR tech company Harver.com, stopped an earlier venture in its tracks and even repaid the unused capital to his backer, Bas.
Secondly, if something doesn't sit right, put it up for discussion with the stakeholders/partners. Don't be afraid to share your worries or fears. One of the most frequent reasons for failure is not the product or lack of capital, but conflicts and inadequacies of management.
Lastly, pay more attention to the people investing than getting obsessed with the valuation. Make sure it's smart money, true network, and future exit potential you're getting. Don't be afraid to walk away from a negotiation when stuff doesn't feel right, and be persistent where you can see potential regardless of what the market says. The Russian funds did not believe tour packages can be sold online in 2011, but market leader Travelata proved otherwise. 
5. What's the next big thing in the startup world? What do you predict for the Dutch startup ecosystem in the near future?
For the most significant local next big thing, we would revert to the massive initiative led by Techleap.nl. Over the next three years, the Dutch landscape will develop massively: we have all the ingredients necessary to become a predominant player in the European tech landscape. The initiatives rolled out are aimed to place the Netherlands at the #2 or #3 spot in Europe (London remaining a clear #1). 
Another next big thing that should happen in the Netherlands is the creation of a startup engine. An engine where ideas can fail or succeed quickly and where enough capital is being deployed at the pre-seed and seed stages by professional investors. The ecosphere needs to quickly gain traction to be able to effectively push ideas that have potential to the next round. Today it is still too hard for pre-seed and seed-stage companies to raise enough capital swiftly. Funds like ours or Leapfunder will hopefully make a real difference soon, especially when working together!
Thank you for your insights, Bas and Joachim! We wish you the best of luck in your future endeavours! 
Join our network of startups and investors!