We had a chat with Femmie Geradts, the Director of Startup Village Amsterdam. Startup Village is Amsterdam's innovation hub where science-based startups are facilitated in locations, co-working spaces, and event studios. It houses a strong community of 35 startups. Femmie's focus is to strengthen the cooperation with Amsterdam knowledge institutions and governmental organizations and to extend partnerships with business/corporate partners. Find out more about her mission, what is it about innovation that particularly attracts her, and what she predicts for the Dutch startup ecosystem in the near future.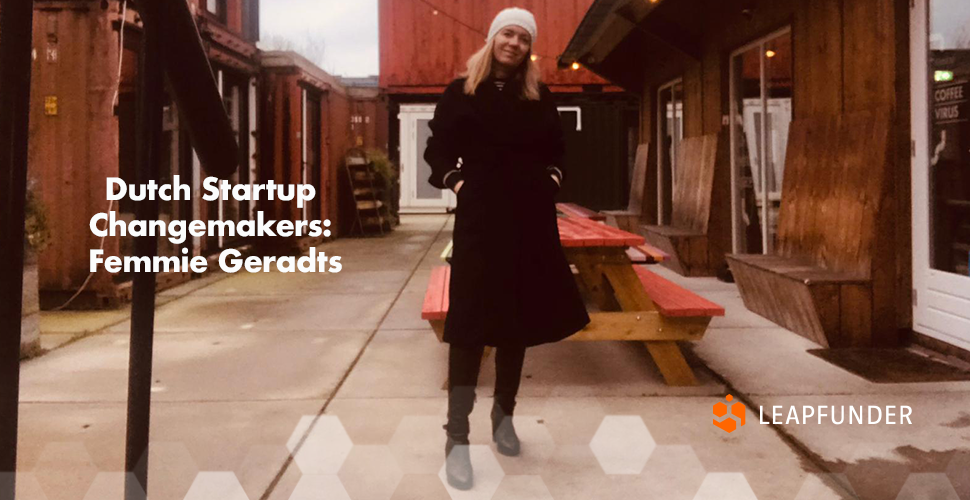 1. Hi Femmie, thank you for agreeing to do the interview. Could you tell us a bit about your background and how you entered the startup world?
Thanks for the interview! My name is Femmie, and I live with my two sons in Amsterdam-IJburg. I studied in Amsterdam and Brighton (UK), and stayed in London for several years enjoying the 'first internet buzz'.  After, I worked for corporates like ING and Philips, and the online portal LYCOS where my interest in (digital) business models and innovation started.
Then I followed my heart; I set up my own agency and ran it for eight years. I also had a startup – a marketplace for jewelry – with my good friend and business partner Niki van Wijk. I was an entrepreneur for ten years and understand the mindset and spirit it takes to survive or proudly fail. I love the enthusiasm and the perseverance the startup world brings! 
2. You recently became the Director of Startup Village, where the next generation of tech companies is built. Congrats on the new position, we wish you the best of luck! What will be your mission there?
Startup Village is Amsterdam's innovation hub where (science-based) startups are facilitated in location, co-working spaces, and event studios. We are the connection between science, talent, and entrepreneurship. It houses a strong community of 35 tech startups, with a total of 350 workplaces. We work closely with our sister company Ace-incubator and we currently have corporate partnerships with organizations like Data Center Equinix, software producer Info Support and the Amsterdam Business School. 
Startup Village has spawned successful growth companies such as Dyme, LaLaLand, and Metrica Sports in recent years. Current promising startups include Zeta Alpha, BIT, and ASIF. 
For our startups, it's important that they get more than 'the rented chair and table' and that they benefit even more from the Science Park and Startup Village network. My focus is to strengthen the cooperation with Amsterdam knowledge institutions and governmental organizations and to extend partnerships with business / corporate partners. Together we can build the ecosystem for technological knowledge domains such as AI, quantum computing, and Blockchain.
So any organization that struggles with technical development and visualizing what it might bring to them can contact me at femmie@startupvillage.nl to set up a corporate partnership for education, collaboration, and visualization.
3. What is it about innovation that particularly attracts you and how are you shaping the startup ecosystem in Amsterdam?
Innovation is the oxygen to every organization (and person). It's an uncertain process without clear boundaries and deliverables but enables you to stay relevant in the future. Finding the right balance between the regular process & proposition and future focus makes innovation interesting. 
Tech and science are big drivers of innovation. I truly wish to collaborate and build an environment where knowledge is spread, tech and science startups can flourish, and corporates can build on their next level of maturity in technology. 
4. At Aimforthemoon, a corporate innovation studio creating impact with teams of corporate innovators and entrepreneurs, you worked as an Innovation Strategist. Could you share the top 3 lessons for innovators and entrepreneurs you learned?
True innovators are always one step ahead.
They see problems before other people perceive them as real problems, and they come up with solutions when the crowd is still stuck in the problem phase. 
Innovators are connectors.
Often you cannot serve the market for what it is looking for on your own. Partnerships and collaborations give you that extra leap in the long run, and this is where good entrepreneurship comes in. Entrepreneurs have an eye for sustainable partnerships, where all parties benefit, and not only bring quick money. 
Entrepreneurship requires resilience and perseverance.
I know it sounds needless to say, but this year has proven that entrepreneurs have been forced into uncertain times and had to rethink the business model to survive or face the additional demands because of Covid-19. This requires resilience and perseverance.
5. What do you think is the next big thing in the startup world? What do you predict for the startup ecosystem in the Netherlands in the near future?
More collaborations, fewer egos
There are so many great initiatives and platforms for (tech) startups and scale-ups. The next step is to build upon each other's strengths and work together on something big, instead of everyone working on their own targets. 
More support
Government and supporting institutions recognize the need for a healthy startup and scale-up community in the Netherlands. The government and Invest-NL are freeing up 500 million euros to stimulate the growth of Dutch startups and scale-ups. And there are several grants to stimulate collaboration, geographically, and per discipline. This will hopefully lead to a more mature market, where successful (tech) startups will arise, and the Netherlands will gain an even more competitive position in the world.
Corporates need startups
The importance of working closely with startups is growing for corporates. To embrace entrepreneurship but also to get in touch with the startups that will play a role in their supply chain. Startup Village is a breeding ground for AI & data-driven university startups, offering corporates a relevant ecosystem to promote entrepreneurship and gain access to these startups. If corporates don't embrace startups, they might get caught up.
More women
The startup world is a male-dominated industry. In the past ten years, barely 5.7% of all investments in Dutch startups went to companies with a female co-founder, according to research by TechLeap.NL. This is changing slowly, investors like Fundright and  Borski Fund are forcing the change. And schools and universities are more focused on entrepreneurship, for males and females. Great to see we get this change for the next generation. 
Thank you very much for your insights, Femmie. We wish you the best of luck in your future endeavors.
Join our network of startups & investors!