We interviewed Jan Geert van Hall, the Investment Director at YES!Delft, one of the largest High-Tech incubators in the world. He entered the startup world more than 10 years ago, and he's been shaping the Dutch startup ecosystem ever since. Find out what's his mission at YES!Delft, what are the lessons for founders he learned over the years and what he predicts for the Dutch startup ecosystem in the future.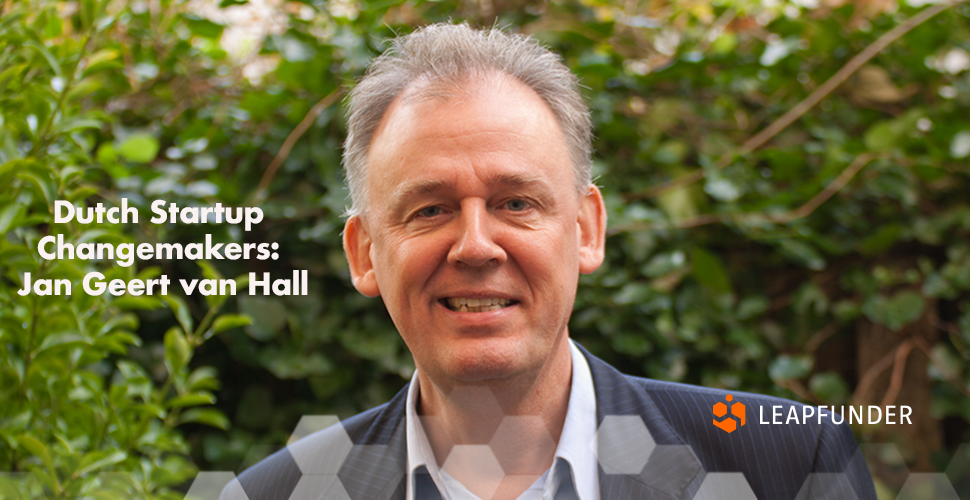 1. Hi Jan Geert, thank you for agreeing to do the interview. Could you tell us a bit about your background and how you entered the startup world?
I entered the startup world more than 10 years ago. I've worked in mergers & acquisitions internationally at Royal KPN, but I left so I could be closer to businesses and joined a group of startup companies as CFO in Rotterdam. Mainly companies active in High-Tech, AI, and Robotics. That was very interesting; you have to go to the bank for financing, find investors, pay the salaries, and do everything yourself.
On the side, I was an investor, so I learned more about the ecosystem in the west of the Netherlands. During that time, my business partner and I have seen many of the most promising Tech companies in the Netherlands, and we got quite a few of them funded with substantial amounts.
Almost a year ago, I was asked to join YES!Delft as an Investment Director where I can do all of this in a more structured and larger scale since YES!Delft is one of the largest High-Tech incubators in the world.
2. Tell us about your mission at YES!Delft. What is it about High-Tech that particularly attracts you?
My mission here is pretty simple, to make sure that companies educate themselves in terms of funding, corporate finance, and governance and to make sure that they don't go bankrupt. About 80% of startups go bankrupt in the first 5 years. Those are the global statistics. At YES!Delft, we managed to reverse that. We have an 80% survival rate, and we'd like to keep it that way. Another important mission of mine is to educate companies on investor readiness. So they can take care of themselves up to a point. 
The most interesting thing about High-Tech is the variety, in my opinion. It's also the challenge that attracts me: funding in High-Tech, most notably hardware, is tough. Most investors don't like it, so they turn to app and web businesses or platforms. 
Investing in hardware is perceived as quite risky. Hardware has a relatively high production cost per product. It's not very scalable. You can only get the production costs down if you produce on a massive scale, but still, it's only scalable up to a point. The time to market is much longer than in software. It takes years, and it's a bit dangerous from the financial perspective but also very exciting. It also makes intellectual property aspects very important. 
When it concerns a consumer product, it gets even more complicated: Investors don't trust startups to deal with the complexity of production (logistics, warranties, distribution channels, quality control, returns). In many cases, I can say they're kind of correct. If the startup doesn't have the team to face those challenges, then problems are undoubtedly going to occur.
3. What is the thing you're most proud of in shaping the Dutch startup ecosystem?
At YES!Delft, I'm proud of the fact that I stopped quite a few things that weren't going the right way for startups, in terms of funding. I'm happy that I helped them discover alternatives to financing.
We have 200 startups, and I was doing this for all the startups individually, so I had to assess them personally and then work with them. I was doing 25-30 tracks in parallel with startups on my own, which is completely crazy! But I took the essence out of that and made an Investor Readiness Program which is quite thorough and implemented it in YES!Delft. Other parties are already interested in scaling up this program regionally or even nationally.
4. Please share the top 3 lessons for founders you learned over the years of working with startups.
Don't run to equity. Most startups that enter YES!Delft need investment right now, like most startups. So they come in and tell me they 'need an investor'. But in many cases, equity is the most expensive way of funding your company. And at such an early stage it is almost always not even possible. We try to make founders aware of the many other options that are available, such as public funding and bank instruments, or different kinds of blended financial instruments.
Look at your business case from the point of view of an investor. 9 out of 10 companies are not capable of doing this. They need to be aware of who's sitting on the other side of the table and what that person wants to get out of investing in your startup. Ask yourself questions like: Where do we need to be as a company in 5 years? How much does the investor get involved? What should be the exit value and as a consequence what's the company's worth at the moment? These are essential things.
Get your storyline right. You have to be aware that running a company is fun, but many things aren't so sexy to do. Nonetheless, you still have to do them! Otherwise, nobody is going to invest in your company. A company needs to know how much money goes in and how much they will spend for the next half of the year. If you don't know that, investors won't trust you with their money.
Also, be aware that for investors (commercial) traction is the most important thing! So go out into the market from day one, don't hide in your lab or office producing fancy prototypes.
So from day one, startups have to be organized! There are significant steps for a long-term company that you need to execute. Get your storyline right on how you'll develop your company as a business and prove you and your team can do it.
5. What do you predict for the Dutch startup ecosystem in the near future? What are your plans? What will you focus on?
The startup ecosystem in the Netherlands is very fragmented and politicized. One of the things that I have found out is that I'm more or less the only person of my kind in the Netherlands. There are no other incubators and Investor Directors in the way we are doing things.
I feel it's inevitable that there's going to be a consolidation, and we'd want to be at the forefront of that. We want to build YES!Delft as a regional incubator at least. Many startups are uneducated. I'd almost say that there are too many startups in the Netherlands. And I prefer quality over quantity.
I see YES!Delft putting up a system together with other incubators so we can select the promising startups in the early-stage and make them viable financially and technologically in the longer-term.
For such a small country, fundraising in the Netherlands is inefficient. We see many startups jumping from the first 100K to the next 100K, and they are busy full-time fundraising. That's one of the things we see on the funding side that should be coordinated better and more efficiently. I hope the government plans policy to implement large seed funds that will give some structure and peace of mind in the community.
My plans for the future include being able to tell investors: '80 % of the startups go bankrupt within the first 5 years, we will give you the 20% that will make it.' On our side, we're working on this with the Investor Readiness Program. So we can bring real quality startups to the table, worthy of investors' time.
Thanks for the great chat, Jan Geert! We wish you the best of luck in your future endeavours.
Join our network of startups & investors!