Remco Janssen aka the 'Godfather of startups' is the first influencer in our Dutch Startup Changemakers blog series. Proudly Represents, his PR agency for high profile and rapidly growing technology companies, and Silicon Canals, his online magazine about technology, entrepreneurship, and innovation open up the Dutch startup ecosystem to the world. Find out more about his background, why he's so attracted to the startup world and his mission to radically improve the way corporates & technology companies communicate.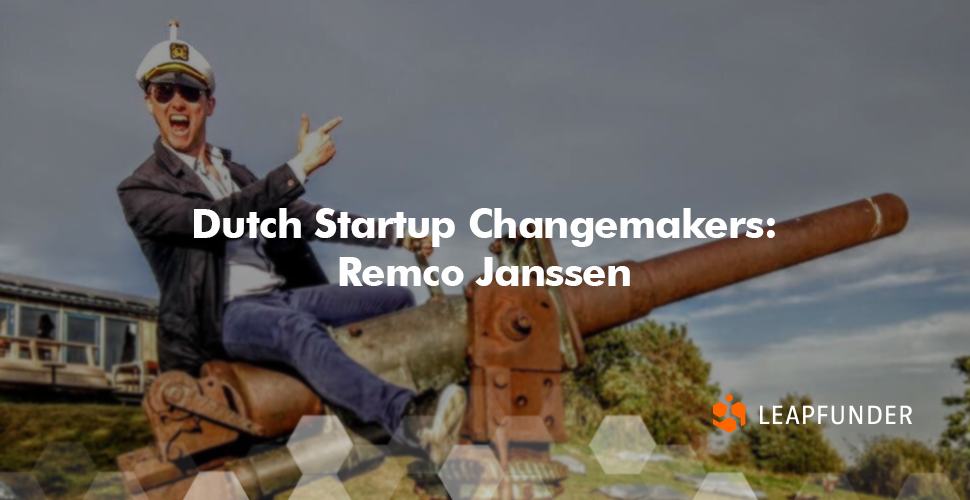 Interview with the 'Godfather of startups': Remco Janssen
1. Hi Remco, thank you for agreeing to do the interview. People refer to you as the 'Godfather of startups'. How does it feel to be seen as one of the changemakers in the Dutch startup scene?
About the nickname, it's a funny story. One of my former employees bought me this great book, Mob Rules, on how being an entrepreneur resembles being in the mafia. At the time, we were rewriting our bios on the website of Proudly Represents. She, of course, wrote that I was the Godfather of startups, not realizing people would *actually* read it. BNR invited me to become a sidekick in their weekly radio show and wanted to give that section a name. They adopted Godfather and apparently after the trial, it stuck. They even made a jingle, with a catchy tune that I used to do a little dance to in the studio, how cool is that?! Too bad they killed the show after one year, but everyone knows me by the nickname, so I thought: let's keep it.
These are pretty exciting times for anyone in the Dutch tech startup ecosystem. All around me, I see bright (young) men and – thank god, increasingly – women working on great products and companies. I've been in the startup scene since 2001, right after the dotcom bubble, and only now we can say we are leaving infancy and hitting puberty. I like to be close to the fire as possible, if you'd ask me, it's getting hot in here! We are not there yet: we have one real unicorn (Adyen), a couple of crazy scale-ups (Travelbird, Catawiki, Helloprint, Bloomon, Tiqets) but if you ask me what the next 100M acquisition will come from: beats me. In a global perspective, what we do here is still petty cash. If Silicon Valley is Premier League football, we're still amateurs.
2. Could you tell us a bit about your background and the mission you're on?
Back in the day, in 2001, as a working student, I started out as a customer service agent at Urbanbite. This NL/UK-startup was the first food order site in the Netherlands, even before (or around the same time) as Thuisbezorgd (Takeaway.com, now a 1 billion euro company) or Just-Eat. It was a funny experience because they burned a shitload of cash from the (in)famous dotcom (crash) investor Newconomy. Our branding and look-and-feel was ahead of its time. The content, especially the description of boring pizza parlors, were witty and catchy.
But we were way too early, on average we did 50 orders per DAY. Today, that's what Takeaway probably does per second. For an average order value of 20 guilders and 8% commission, back then, it wasn't even enough revenue to cover my customer service shift.
Lastminute.com bought the company and I became a full-timer, responsible for sales, mostly, and content. You can imagine how tough it was, canvassing restaurants to have them go "on the Internet". Think fax machines and print folders. I learned never to give up. It's a pity Urbanbite is not really around anymore, but I witnessed first hand how difficult the startup hussle is.
After a very unsuccessful stint as a sports journo at the "startup" freesheet newspaper Dagblad De Pers, I had to reinvent myself. In my brief career, I had already experienced first hand how important great PR and content is.
I started blogging, co-founded Social Media Club Amsterdam and by the end of 2009, I was hired by high-rising Austrian startup 123people as a "country expert" for the Netherlands. After that, I assisted Scoupy with PR until they were awarded "Sprout Startup of the Year 2012". Those two companies are my claim to fame as the PR guy for startups.
On estimate, I have probably helped around 40 startups with PR. If you count all the startups that I've mentored over the years, that numbers crosses the hundred-mark perhaps.
Some, like Helloprint, Fixico, Hotelchamp, and StudyTube, bank millions in funding. Some are even acquired, like Treatwell, Scoupy, and earlier, 123people. Some fail or go bankrupt. PR is never going to save you from failure, still, it's a cornerstone of a possible success. Never to be underestimated.
Now, my mission is to radically improve the way corporates, startups & technology companies communicate. I believe in a more open, transparent, factual and compelling way. If you have ever received one of my press releases or pitches, you'll see there is a common denominator. Easy to read, with respect to the journalist. Don't tell my clients, but journalists are maybe more important to me than whoever pays my bills. Usually, journalists are around longer than the actual client.
3. What is it about startups that particularly attracts you? What was the trigger for becoming so active on the startup scene?
Like I said, it all sort of happened. You need to realize that a lot of people, like me, are totally unfit for the corporate rat race. I could never work in a normal company.
Essentially, what attracts me to startups is the people. If I look back at the teams at Urbanbite, 123people, Scoupy, and other companies that I worked with closely, I really miss those days.
I love drinking beers with the guys at Barqo. I would consider the two founders of one of my first and most precious clients, Fixico, as friends. It's unbelievable how much they have helped me – don't forget, they are my client. It's reciprocity that makes the startup scene unique. Of course, there are a lot of assholes, male and female, but luckily I forget quickly and I've made a pledge to never hold a grudge.
4. What is the thing you're most proud of in shaping the Dutch startup ecosystem? How do Proudly Represents and Silicon Canals help startups?
A couple of things. Although 123people ran into a dead end in 2014, I am proud that in the Netherlands, the reputation of the company was squeaky clean, while in other markets it was a mess. I have seen and helped with the rise of scale-ups like Scoupy, Treatwell, Fixico, and many others.
In 2014, just a few days before Neelie Kroes was appointed to special startup envoy, we launched Silicon Canals. First in Dutch, and in 2015 for the occasion of StartupFest, in English. You need to realize something: it is still very much a side project. Although we do make some revenue, the investments far exceed the returns. Don't care too much about it, what I do care about is what it does for the ecosystem. It opens up the Dutch ecosystem to the world, basically offering a window to what is going on in our little community. The warmth and appreciation is what kept me going because there were many times I could have killed the entire project. Now, we are looking for (corporate) sponsors that are willing to tie themselves to the ecosystem. We just finished a project for Deloitte Innovation, for instance, nothing fancy, but to us, it means the world.  
5. What do you predict for the Dutch startup ecosystem in the near future? What are your plans, what will you focus on?

I am not predicting, I am hoping we will see more international breakthroughs of local scale-ups. Up until now, the exits in the Dutch markets are nothing more than acquihires. We need more Adyen's and Catawiki's, because companies like that inspire other.
Currently, I am focusing on a few categories: legaltech, fintech, marketing & adtech, and marketplace startups. But my experience in communication goes far beyond that, from IoT to 3d printing to HR-tech. I want to work with great founders, that's basically it. I am now also involved with the startup-studio-esque development agency Siteworkers, as an entrepreneur in residence. What that means is that I am their liaison in the startup scene, essentially curating great startups that need to build great stuff, super-fast. I've seen what they could do, as we worked for Treatwell around the same time.
As the Godfather in my own little venture builder Dusdat, I want to mentor 20 startups closely in the next 5 years, bringing at least a quarter to a massive success in 10 years.
With Silicon Canals, my ambition is more humble. The company needs to become self-sustaining, and we are working on closing great partnerships as we speak, but in the long run, it needs to be fully independent from me. Every mature startup ecosystem deserves its own "trade journal", kind of like what Techcrunch and Recode do for Silicon Valley. Putting the Dutch and Benelux startup ecosystem on the map is my ultimate end goal.
Thank you, Remco for sharing your experience and insights with us. Keep on rocking that startup ecosystem!
Discover the Dutch startup scene. Join our network of startups and investors!