We talked to Bernd Thöne, founder of flowpilot, an easy-to-use cash flow management tool (SaaS) for SMEs. Find out what problems they're trying to solve, what kind of investors they're looking to attract and why they chose Leapfunder as their online funding platform.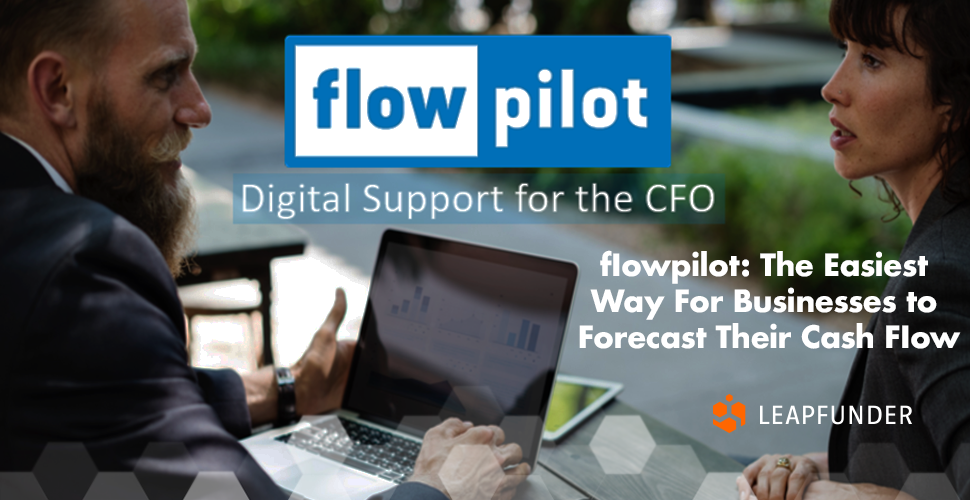 1. Hi Bernd, thank you for agreeing to do the interview. Tell us about flowpilot, the idea that got it all started and the amazing team behind it.
Thanks for having me. Let's start with my background. I worked in tax consulting, advisory and management accounting for ten years and another ten years in consulting as a Project Manager, managing 80 people with a yearly budget of €10 million. In both of my roles, I have seen good companies with a solid business model failing again and again, just because they were not able to manage their cash flow properly. I totally hated to see that, which is why we founded flowpilot in April 2018.
2. What problems are you trying to solve? What are the benefits of flowpilot and why is it a product-market fit?
The problem is that cash flow management with excel is extremely time-consuming and often very inaccurate. It's often not done regularly and not up to date due to the effort, poor results, and lack of proper knowledge. If you start setting up proper cash flow management when you're already in trouble it could be too late to save the company.
flowpilot provides the 'Mittelstand', which consists of smaller and larger SMEs, with a smart, always up to date, 12-month rolling forecast in realtime. Using automation and explainable AI, flowpilot relieves the customer from the tedious tasks and enables them to make strategic decisions in a playful manner without the need for deep financial knowledge. It saves bigger companies a lot of effort and enables the smaller ones to even have proper cash flow management. Due to COVID-19 and the coming economic fallout, cash flow management became even more important 'overnight'. The cool thing is that it's directly fed from Datev-Bookkeeping data, a format which every software can provide.       
3. How much growth potential do you see for flowpilot and what type of investors are you looking to attract?
Every company needs proper cash flow management. Bigger companies need a smart and automated solution to create better results with less effort and smaller companies are in need of a solution that works for them individually, without the need for a costly and risky IT-Integration Project.
We started in DACH (Germany, Austria, Switzerland) but we do have a global mindset. We are looking for Angels who have deep knowledge in certain industries (e.g. e-commerce) or countries to support us towards a faster market approach in order to speed up the scaling process. 
4. You chose Leapfunder as your online funding platform. What makes it the right tool for your startup, and what do you expect from the round?
What attracted me first was Tienko's knowledge of fundraising for early-stage startups. I noticed the huge leverage Leapfunder can bring to your fundraising process when you manage to activate the Leapfunder investor community. The Leapfunder Round Table Sessions are continuously introducing you to great Angels in a relaxed environment. Due to COVID-19, the sessions moved online but the concept works just as well there. But I have to admit I miss the 'Käsestängle'.
We aim to raise €200K in our current round. Investors have the opportunity to lever their investments with €1,3M of EU funds and see a great chance in flowpilot with our USP: processing Datev-Data, which no-one else has done so far. We experienced a strong increase in demand since the COVID-19 crisis. Only 17 tickets are still available.  
5. What are your plans for the upcoming months? Tell us about your go-to-market strategy and the plan to acquire customers.
Currently, we are still focusing on direct sales. We have just automated our sales process and in June we plan to start integrating other systems directly (e.g. bookkeeping systems like sevDesk or banks like Holvi) in order to tap into their customer base. On top of that, we are already talking to multipliers like tax accountants, banks and other resellers.   
Thank you for sharing your story, Bernd. We wish flowpilot the best of luck!