Gearbooker is a fast-growing peer-to-peer platform for sharing creative equipment. This interesting vertical combines three factors of successful marketplaces: goods that are often underused, easily shareable, and with a transaction value attractive enough to make it work. As a business model, Gearbooker uses the AirBnB commission approach. Find out what type of investors they're looking to attract, why they chose Leapfunder as their online funding platform and what are their plans for the upcoming months.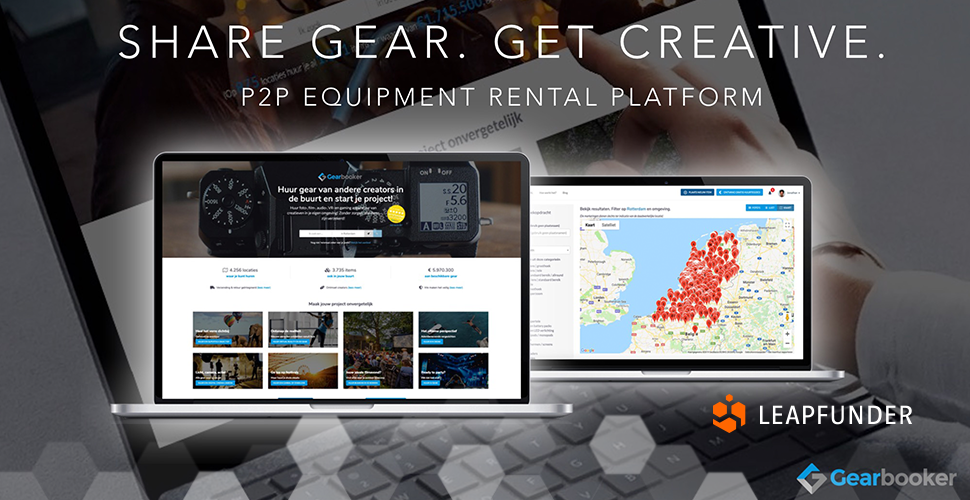 1. Hi Jonathan, thank you for agreeing to do the interview. Tell us about Gearbooker, the idea that got it all started and the amazing team behind it.
Gearbooker was created when it occurred to us that many people need equipment for a short period of time in the creative sector. Or to try it out before they buy it, to see if it meets their needs. It is very common among creative professionals that equipment is only needed for a certain job or project. Due to high purchase costs, it makes much more sense to rent it out.
In the time of Airbnb-like marketplaces, we wondered why a platform for this sector does not exist. That's when we (a small team of product developers and programmers) started to build the idea. We first made sure that we would have partnerships with insurance companies, which took us a little while. After that, we started to build the foundations of the platform. Since then, we have rapidly grown to a platform that covers the entire Netherlands and also Belgium, with over 6 million € worth of gear and around 5 000 creatives (professionals and consumers) using it.
Also, we have started collaborations with several equipment brands such as Canon, Tamron, Zeiss and Sigma. There are a few more upcoming collaborations. As these brands realise that they have to renew their business models and innovate their marketing channels, our platform is a very interesting marketing channel for them. By acting as a 'Premium Lister', they are getting close to the community by giving them an opportunity to try out their new product releases. We can call it 'try before you buy'.
As a bonus, a lot of added value is generated by the online exposure, reviews placed by their renters, blogs, etc.
2. What problems are you trying to solve? What are the benefits of your product and why is it a product-market fit?
We connect the owners of the gear with the potential renters and add trust, security and ease of use to the game. We give the owners the opportunity to earn back the money they spent on the equipment, while the renters love our platform due to the hassle-free process, affordable rental prices (approx. 20% lower than the industry standards) and building their network (the 'social community' aspect).
We target three major segments:
Small enterprises:

companies in need of equipment for short-term use (e.g. presentations, AV-productions, business fairs)

Creative professionals:

including photographers, filmmakers, musicians, DJs, vloggers, journalists/media professionals, etc.

Creative consumers:

practising a creative hobby, travelling for vacations, etc.
All three segments have a significant presence on the platform, each with a distinctive role: renter or owner. These groups complement each other well in tackling the chicken-and-egg problem that each sharing platform faces.
Why is our platform a product-market fit? Gearbooker combines three factors that are needed for a successful marketplace: items that are often underused, easily shareable and have a transaction value attractive enough to make it work.
3. How much growth potential do you see for Gearbooker and what type of investors are you looking to attract?
The potential is huge. Our current growth has mainly been reached organically, so there is still a lot to win once we start to advertise significantly. It's our mission to make Gearbooker an international European sharing platform for creative equipment and other electronics. With the community we target, it's not difficult to see that a lot of other opportunities will open up once we grow our user base.
We are looking for investors who recognize the trend of ownership 2.0: 'Being able to use something is more important than owning it'; and who believe in the scalability chances of today's marketplaces and platforms. If they have a marketing or a technical background, that's a great plus because it would make them a good sparring partner!
4. You chose Leapfunder as your online funding platform. What makes it the right tool for your startup and what do you expect from the round?
Through Leapfunder a wide range of investors can participate in one's round at relative low ticket sizes making it very accessible and attractive for both startups and business angels. We've already seen that work: we reached our minimum investment amount at light speed (in less than two days). Of course, we would like to get more out of this round so we can grow even quicker. We have some more time to reach that goal.
5. What are your plans for the upcoming months? Tell us about your go-to-market strategy and the plan to acquire customers.
Now that we have figured out how to grow organically, we can boost that with paid advertising. Our platform is ready to scale up quickly. We have already been testing the basics of different marketing approaches and channels, so with the new investments, we can continue testing and convert that to mature marketing campaigns. We can then think about Facebook, Instagram & Google; partnerships with brands and platforms; influencers; participation in relevant (offline) events.
Gearbooker is unique because many of our renters also act as equipment owners. So spending the marketing budget on creating more demand will also help our supply grow.
Thank you very much, Jonathan. We wish you and Gearbooker the best of luck!
Join our network of startups & investors!