Paula Thurm is a Podcast Marketing Expert from Hamburg. With her Podcast Marketing Club, she helps companies win their target audience's trust and build lasting relationships with their customers. Find out how she's shaping the startup ecosystem in Hamburg, what it is about podcasts that particularly attracts her, and which lessons for founders interested in creating their own podcasts she shared with us.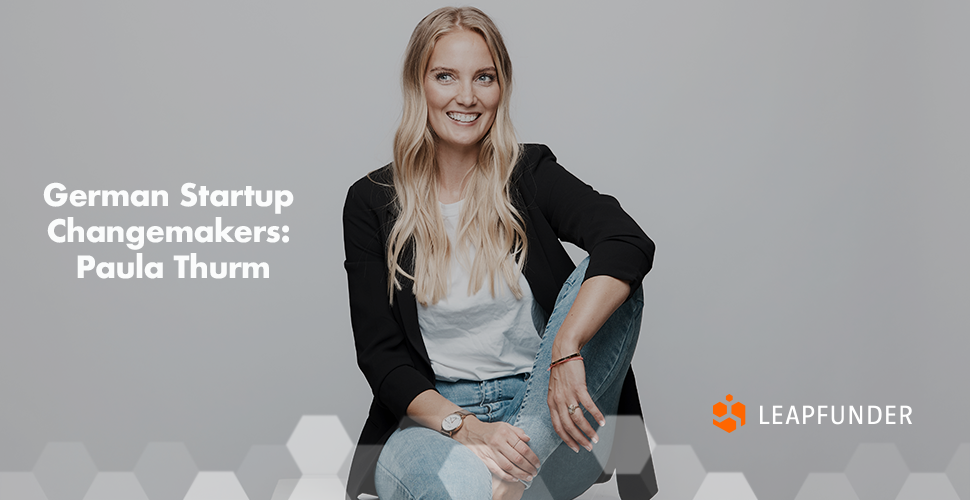 1. Hi Paula, thank you for agreeing to do the interview. Could you tell us a bit about your background and your connection to the startup world?
Thanks a lot for having me! I'm the founder of the Podcast Marketing Club, which specializes in Podcast Growth and Podcast Ads. On the one hand, I help podcasters get more reach and listeners, and on the other hand, I help brands promote and sell their products in successful podcasts. Even if it is not my main product, I also love mentoring startups to become successful podcast stars. I believe podcasts are a perfect marketing tool for a lot of businesses.
2. You're a Podcast Marketing Expert, with a mission to firmly establish the extraordinary power of podcasts. Tell us more about your goal and the idea that got it all started!
I used to work for seven years for the global market leader in the fragrance industry, Givaudan. I was responsible for multisensory marketing, which means how you sell products by their smell and not only by their visual first impression. Our sense of smell is very powerful and works on an emotional level. That's what our sense of hearing does as well, so I started to pay more attention to podcasts as marketing tools.
As I already had the marketing know-how, I started working for different podcasters to understand their techniques and processes. Finally, I started my own podcast, Podcast Marketing Club, where I want to share my experience and know-how on creating great podcasts.
My goal is to present podcasts as the high-quality marketing tool they are and make them more understandable to the marketing world, whether as a business channel or using other podcasts as an advertising medium.
3. What is it about podcasts that particularly attracts you? How is the Podcast Marketing Club shaping the startup ecosystem in Hamburg?
I would say podcasts are unique media channels in trust-building and reaching the next level of customer relationships. As a listener, you have an authentic view of the people behind a brand. As a podcaster, if you're talking to your target audience for 30 – 60 minutes and you give them a lot of deep, added value, you're building trust.
Starting a podcast is technically quite easy; you only need a microphone, recording software, and a hoster, that's it. However, if you'd like to build a successful conceptional podcast, there are many things to consider. I helped Talente, Nushu, and other startups in Hamburg to go through this process.
4. Could you share the top 3 lessons for founders who would like to set up their own podcasts?

Creating your own podcast is a long-term project. Since people have to invest time to listen to your podcast, it takes more time to build a community than on your Instagram account, where people leave alike in just a few seconds. Don't give up too early; if you have valuable content, you will be successful.

One of the most important questions you need to ask yourself when you start your podcast is: who will listen to my content, and why should they? Your audience should benefit from each episode.

Launch with a plan and a big party. Don't start your podcast with only one episode and wait to see what happens. It would be best if you prepared a few episodes to start with and activate your community, family, and friends to celebrate your launch and help you create a buzz.

5. What's the next big thing in the startup world? What do you predict for the German startup ecosystem in the near future?
In terms of marketing, I see that content marketing is getting more and more important. The times where people were doing only Facebook ads are gone. Startups have to create meaningful and helpful content. Podcasts are a great marketing tool, not only because they're convenient to listen to everywhere and at any time you want, but also because people memorize something they've heard a lot better.
Thanks for sharing your story and insights with us, Paula. We wish you the best of luck in your future endeavors.
Join our network of startups & investors!