Do you want to learn investment best practices and get access to the startup scene? Do you want an opportunity to invest with fellow angels and grow the economy? Join Leapfunder's second Angel Clinic on February 7th in Amsterdam, and kick start your angel investing career. The first edition is already behind us, and the investors that joined found the experience highly rewarding. Federico Maroli, the President at ASIF Ventures, was one of the participants. Find out what his impressions are, what are the top lessons he took from the Angel Clinic, and how will these learnings impact the way he works.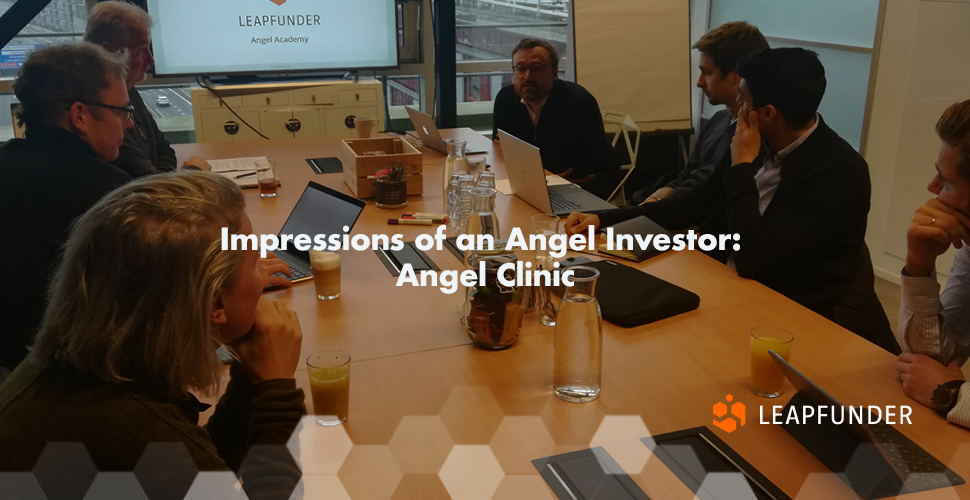 1. Hi Federico, thank you for agreeing to do the interview. Could you tell us how you became interested in startup investing?
I have always been an economist at heart. During my BSc at Maastricht University, I was deep-diving into Schumpeter's Theory of Creative Destruction, which details the deliberate dismantling of established businesses and their operations to foster more innovative and efficient methods of production. That's when I first understood the importance of entrepreneurship and innovation for our economy and society as a whole. From that moment on, I started being interested in all things related to investment and startups.
I then got involved with ASIF Ventures, during my MSc in Economics at Erasmus University in Rotterdam, and had the chance of being involved first hand with the growing and dynamic entrepreneurial community in Amsterdam. I enrolled in another MSc, Finance and Investments, at the Rotterdam School of Management to develop more knowledge in the area of investments and entrepreneurship, to see where I could add value in a startup's journey. I felt that after all this time spent in academia, I was ready to embrace the real startup investing world. Being the President at ASIF Ventures now allows me to work with like-minded people, who seek to foster Amsterdam's entrepreneurial community and deal with the most driven, talented, and passionate entrepreneurs in the country.
2. You attended the first-ever Angel Clinic in Amsterdam. What are your impressions? 
It was a super insightful day. Being exposed to the VC world via ASIF Ventures, I was looking forward to gaining more knowledge on how angel investors operate, screen startups, and decide to invest. The Angel Clinic did just that; by providing us with an informal setting, we were able to listen and learn from the experienced Leapfunder team as well as talk to "veteran" investors during lunch, before diving into the Round Table session in the afternoon. Overall, the first Angel Clinic achieved everything I expected and more. The clinic increased my legal and financial knowledge and facilitated practice through interactive investment sessions. Talking to startups directly allowed us to put what we had learned into practice. 
3. Could you share the top 3 lessons for first-time investors you took from the Angel Clinic?
Personal relationships with founders are as important as the financial engagement 

How to conduct proper due-diligence as an individual investor

What to ask founders pre and post the investment process
4. Will your learnings from the Angel Clinic impact the way you work at ASIF Ventures?
At ASIF Ventures, we bridge the gap between young entrepreneurs and the Amsterdam funding ecosystem. We invest in student and recent graduate founders who provide innovative tech solutions. Given that our ticket sizes range between €25K-€100K, we often invest alongside other angel investors. The learnings from the Angel Clinic will impact our ways of working. Now I have a more detailed knowledge of startup screening and analysis, as well as in-depth insights on how angels operate and invest. That will improve our co-investment processes and angel investment network.
5. Who would you recommend the Angel Clinic to, and why?
I would recommend the Angel Clinic to young investors who would like to increase their knowledge on the matter and standard ways of working as an angel. I would also recommend it to those who have more experience in investment in other asset classes. Investing in startups is an entirely different league and the things to consider greatly differ compared to the stock market or real estate fundamentals.
Thank you very much for sharing your impressions, Federico. We wish you the best of luck in your future endeavours!
The Angel Clinic is an exclusive event, and places are limited. Purchase your ticket today!