Leapfunder gives you the opportunity to invest in the coolest startups from the Benelux and DACH region. If you're familiar with us, you know that you can invest in the Open Rounds and that the startups in the Coming Soon section are investor-ready. However, during the past year, when people started working remotely, a lot of startups saw this as an opportunity to find investors across borders, especially in Western Europe. We decided to help them by opening up our platform to very early-stage startups!
With our On the Market feature, which works as a one-stop shop for startups, we wanted to give very early-stage companies that might be a diamond in the rough an opportunity to get visibility. We aim to introduce them to the largest angel investor network in Europe and help them raise funding because we believe there is enough capital out there for every good idea. 
What we wanted to offer you, as an investor, is the opportunity to browse through these startups on our platform, follow them if you like them, and become one of the first people to jump on the investor train once these startups are investor-ready.
We're showcasing 70 startups at the moment. Even though most of them are in the Benelux and DACH region, there are some companies from other parts of Europe as well.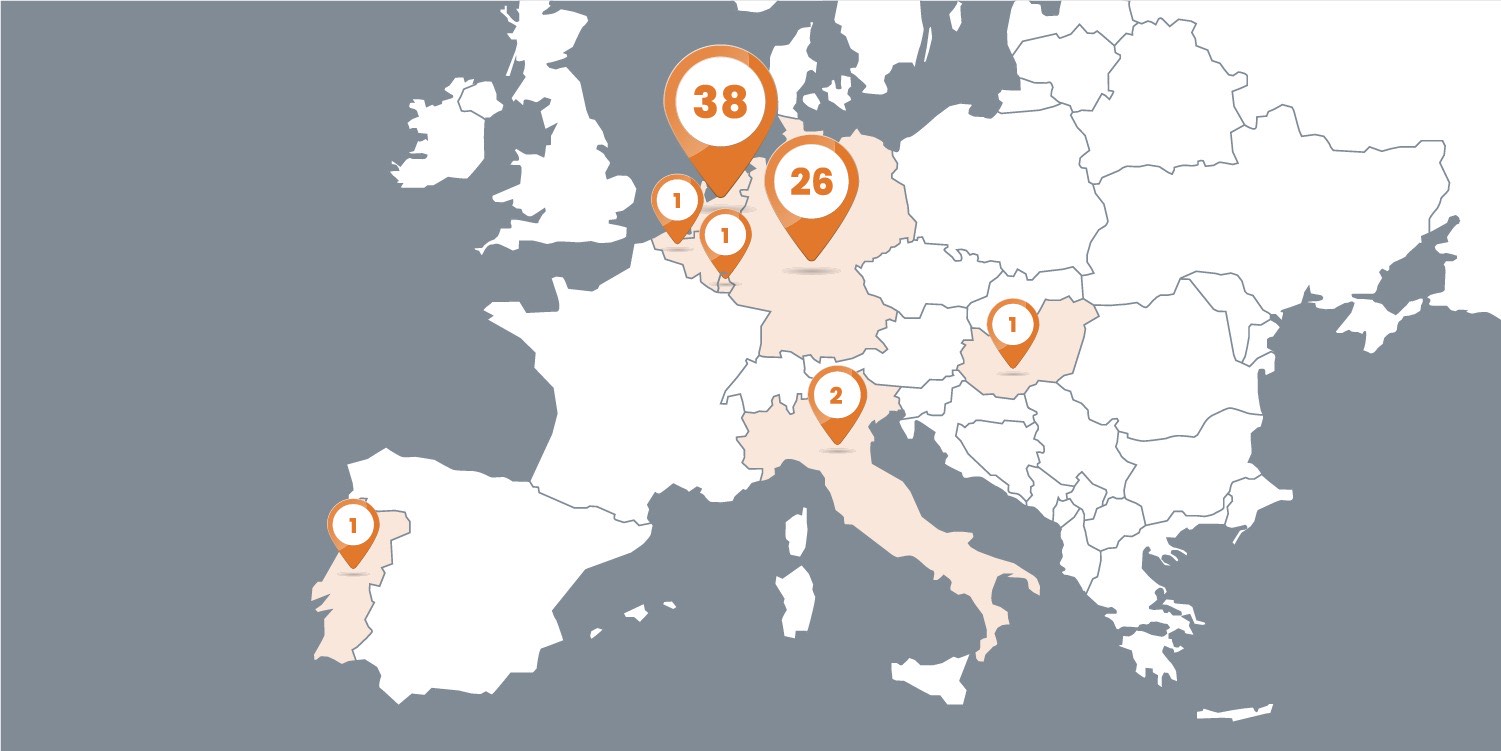 Most of the showcased startups are in enterprise software, health, leisure and food/agricultural industries. However, if you're interested in discovering companies in logistics, mobility, fintech or other industries we have something for you too.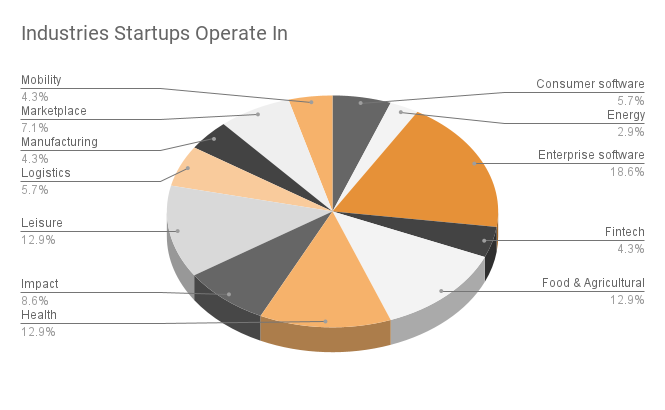 Find out more information about the On the Market showcased startups and follow them on our platform:
Consumer software
Audienz.app (Germany) is a social voice platform where users can share and discuss all their best and most intimate stories and thoughts with others.
BestelThuis (the Netherlands) is an order platform in the Netherlands, primarily focussed on local businesses like liquor stores, supermarkets, florists and restaurants.
Idealisers (the Netherlands) is an app that creates digital content using known and trusted analogue creation tools like pen and paper.
Winkt (Germany) offers efficient use of a new social network with growing relevance which is: the people physically close to me. Their approach is radical: Personal profile doesn't count anymore. All that remains to connect is: location plus joined present moment.
Energy
Africa GreenTec (Germany) is a social enterprise that developed a holistic systems solution for supplying entire village communities in rural regions with electricity and sustainable technologies. 
Zenon Energy (the Netherlands) is a manufacturer of future-proof energy storage systems using long-life technology that builds on the titanium battery chemistry to achieve an industry-first energy storage system that can reach 25-year of operation (similar to the lifetime of solar installations).
Enterprise software
Brainial Smart Tendering (the Netherlands) provides intelligent software to help organisations reduce the time, resources and money spent when responding to tenders, achieving higher quality, win rate and profitability.
ClickCall Ltd (the Netherlands) will develop the first personal security application that will open the doors after COVID-19 for everyone to work, travel and enjoy their free time.
Colpari (Germany) offers customers an entire virtual customer service department – on-demand, without fixed costs, and fair payment for their partners, no matter where they are located worldwide.
Evitado (Germany) developed a collision-avoidance system for towed ground movements of aircraft.
Kopply (Germany) is a contact management platform that enables professional networkers to exchange and organise contact information efficiently.
Labs64 NetLicensing (Germany) is a first-class solution in the Licensing-as-a-Service (LaaS) sector. It provides a cost-effective, integrated and scalable platform for software vendors and developers.
PM Rehab (the Netherlands) is a service for the optimization of your Project Managers' capabilities. They offer solutions focused on professional development, mitigating risks in project delivery and protecting service revenue.
promiseQ (Germany) is a cloud-based SaaS solution to filter false alarms in video surveillance. They designed a cloud-based platform that verifies and filters the false alarms in real-time via an on-demand human-in-the-loop service – the promiseQ engine.
Revisely (the Netherlands) is an EdTech startup that offers a productivity tool that teachers use to correct students' work, saving teachers' time with standardised feedback and optimised workflows.
ShopMe (the Netherlands) is a platform that aims to help retailers reduce their costs and increase efficiency by automating the most painful part of a customer's shopping experience: checkout.
To Be (Italy) is an innovative startup designing, developing, and selling Li-Fi applied solutions, intending to satisfy the growing demand for data transmission and lead the transition towards a faster, safer, and more sustainable connectivity.
WANR Holding (the Netherlands) increases the investment in the organic food chain in support of a sustainable economy. Pragmatically they're taking over a franchise of Ekoplaza. Their goal is to convert conventional consumers into aware ones.
WPCS (the Netherlands) offers the creation of multiple website products. The mission is to deliver the most efficient development process with the world's first website multiplier system.
Fintech
Cyan Reef (the Netherlands) is an investment platform offering impact investing and transparency. It enables users to manage their wealth and allocate investments in impact-generating assets in accordance with environmental, social, and corporate governance (ESG) principles.
Flowpilot (Germany) provides an easy-to-use cash flow management tool for SMEs. 
Paynote Group (the Netherlands) gives you an overview of your finances while keeping a strict eye on the moral fibre of tech. They offer a solid overview of your financial profile, outstanding categorization of transactions and cash flow optimization.
Food & Agriculture
Brandl Nutrition (Germany) develops evidence-based and individually adapted sports nutrition for the rapidly growing target group of health-conscious sportspeople.
DutchGrowMaster (the Netherlands) offers a 3-step concept to grow your own plants indoors: mix, spray and grow.
Grow MDCL GmbH (Germany) is a pre-licence medical cannabis producer with market access to German and European patients.
Honest AgTech (the Netherlands) is an AI/software company automating activities. They accomplished using human labour at commercial greenhouses and vertical farms using robotics.
Johnny Cashew (the Netherlands) is the market maker for sustainable cashew, directly sourced from Tanzania and Mozambique.
KaaS Kitchen (the Netherlands) stands for Kitchen as a Service. They offer all needed services and smart solutions for process optimisation & business control for delivery restaurants.
Mavuno Technologies (Germany) is a satellite data-powered mobile app for farmers in Africa. It displays crop status as heat maps and therefore helps farmers take targeted action and increase their harvest yields.
OTree (the Netherlands) is the first company that improved the air filtering power of plants by 200 times. They designed a system to fit inside a plant pot that uses the roots of the plant to actively filter fine dust and toxic gasses (VOC) and to improve the humidity.
ZeeWijn (the Netherlands) is an online store and distributor with an exclusive range of products. Their goal is to offer their customers the best Portuguese wines, and the best service with simple and secure online payment options.
Health
Babyndex (Hungary) offers an analogue saliva ovulation test, a reusable method that signals the fertile phase 3-4 days before ovulation. It is the only system that complements the analogue test with computers vision.
Elementa Labs (the Netherlands) is the first add-on voice assistant for biomedical researchers, which allows them to stay connected to their Electronic Lab Notebooks from the lab through the power of their voice.
Glouv labs (the Netherlands) created a handheld and convenient way to store and sanitize your face mask so that you can use it again, more safely, later in the day.
Jawsaver (the Netherlands) is a sleep health company that is looking to help 56 million teeth grinders break up with their uncomfortable mouth guards and sleep & live better.
Lenzbox GmbH (Germany) is a portable cleaning and storing system for contact lenses, developing next-generation contact lens care systems for utmost convenience.
Major21 (the Netherlands) offers an innovative meal shake smoothie based on real (dried) fruits, vegetables, nuts and grains with a 98% fresh quality. Major21 calculates the optimal recipe to sustain the best saturation level for every individual to reach their goals.
NOBODYTOLDME (Germany) helps women to deal with menopause. They want to be home to the content, products and services that women over forty need and want. With NOBODYTOLDME every single woman can take her health into her own hands.
portHy (Germany) is short for portable Hygiene. It's the very first stylish smartphone necklace with an integrated disinfectant dispenser. It offers a stylish, practical and discreet way to practice hand hygiene.
SEED CYCLING (Germany) is your digital coach providing you with a monthly natural remedy and edutainment to gain a healthy, regular & pain-free period.
Impact
Forest Wool (the Netherlands) turns waste coming from the timber industry – pine needles – into the fibre which is used for fabric production.
Invisible Foods (the Netherlands) is a data-driven market solution to combat food-loss, and promote a circular food system.
Staiy (Germany) is a one-stop platform for conscious consumers. It's an editorial-driven retail platform where customers can buy sustainably produced products from emerging brands and designers.
SystemI (the Netherlands) makes business ready for the next economy. They create an advanced organizer in which they give you a framework to build your circular footprint.
The Bamboovement (the Netherlands) is focused on offering plastic-free personal care products to inspire people to live a more eco-friendly life.
Valyuu (the Netherlands) is a service people can use to sell their technical consumer goods, such as smartphones, tablets, and laptops.
Leisure
BandStage (the Netherlands) is a platform that offers an overview of Dutch live music/acts.
Bash (the Netherlands) is a platform that attracts active users by enabling them to easily host and share invites for private events such as birthdays, dinners, weddings, and more.
Beazy U.G. (Germany) is a community of creatives making content production easy with a B2B marketplace.
DeMonth (the Netherlands) is an online subscription-based platform that sells menstrual goodie boxes, chosen by the customer. They also sell a range of skin and healthcare products as well as comfort food.
FOLLOW (the Netherlands) is a social network with an inverted revenue model. It succeeds when the user goes out to do something fun instead of spending time on their screen.
Patzo (Germany) is the first company to challenge current dog care concepts. They believe in the community instead of paid services and subscription instead of expensive dog-sitting. With their mobile app, they're building local dog communities with the goal of collaboration.
StyleSearch (the Netherlands) is a new generation fashion search engine. They are using innovations in tech to solve issues in new and more effective ways. Their goal is to become the Google of fashion.
Unpluq (the Netherlands) gives you the power to decide when to transform your phone into a distraction-free device.
Zports.com (run by Invictum) (Luxembourg) is an online recruitment & career management platform for players, coaches, teams and agents in the pro and semi-pro team sports market.
Logistics
PaketConcierge (Germany) offers users to choose the perfect location for the delivery of their parcels, and reduce delivery costs by 20%. The biggest problem for carriers is the last-mile delivery and the shift from home to pick-up point delivery is the solution.
ParcelP (the Netherlands) is utilising existing freight capacities to create the world's first virtual parcel delivery network.
Qatch (the Netherlands) is a market-ready SaaS solution that aims to empower on-demand ride-hailing services across the world.
Redistri (the Netherlands) is a national trucking platform that offers its customers access to its combined truck load network. The service combines cargo from the approximate departure region to the approximate destination region together in one truck load, eliminating the need for hubs.
Manufacturing
Acrobatics in Acryl (Germany) distributes high-quality acrylic paints, high-quality stretcher frames and other painting accessories.
CARIAL (Germany) is a smart vehicle disinfection system using a stand-alone, self-standing disinfection device developed for self-usage.
Wankel SuperTec (Germany) is a developer and manufacturer of state-of-the-art, multifuel rotary engines.
Marketplace
Coolguide4you (Portugal) is a tailor-made platform offering digital solutions to brands and customers. This way tourism providers can offer a customisable all-in-one app for their guests.
DeskNow (Germany) is the Airbnb for workspaces, making commercial real estate booking as easy as online shopping and as safe as online banking.
Pick Meal Up (Italy) is the first takeaway app that offers great fixed prices for meals and subscriptions. Pick Meal Up restaurants can create amazing offers and subscriptions, and users can easily and quickly pre-order and then Pick their Meals Up, saving time and money.
Playtreks (Belgium) is a data analytics platform with powerful insights tracking discovering music in charts & playlists, insights from social media, and music distribution to all major streaming stores.
We-Buy.net (Germany) offers customers to conveniently purchase European brand products with the help of a 'personal shopper' and sends them to their home country so they don't have to travel to Europe themselves.
Mobility
Lifthop Services (the Netherlands) has patented its design for unmanned naval drones which use hovercraft-like physics with electrical vertical landing capability to provide high loading capacity, helicopter-class speeds and flexible naval cargo operations for logistics.
Movacar (Germany) provides a unique vehicle logistic solution. They crowdsource drivers by marketing vehicle transfers as one-way rentals for 1€ to users, saving fleet operators up to 50% in logistic cost. Fleet operators save by monetizing unused empty seats and users get unbeatable travel options from city to city.
Squad Mobility (the Netherlands) is developing the Squad, the first Solar City Car for daily urban mobility.
We hope you found some interesting startups and you're getting ready to jump on the investor train. Our goal is to provide you with a network and a standardised investment structure that makes small investments possible.
Join our network of startups & investors!