With a pre-therapeutic focus, mentalport makes mental health everyday appropriate through its B2B2C app. Like an advanced version of Siri for mental health, it coaches users and provides daily support through a feature-rich app. Find out why they're a product-market fit, and check out their live round on Leapfunder.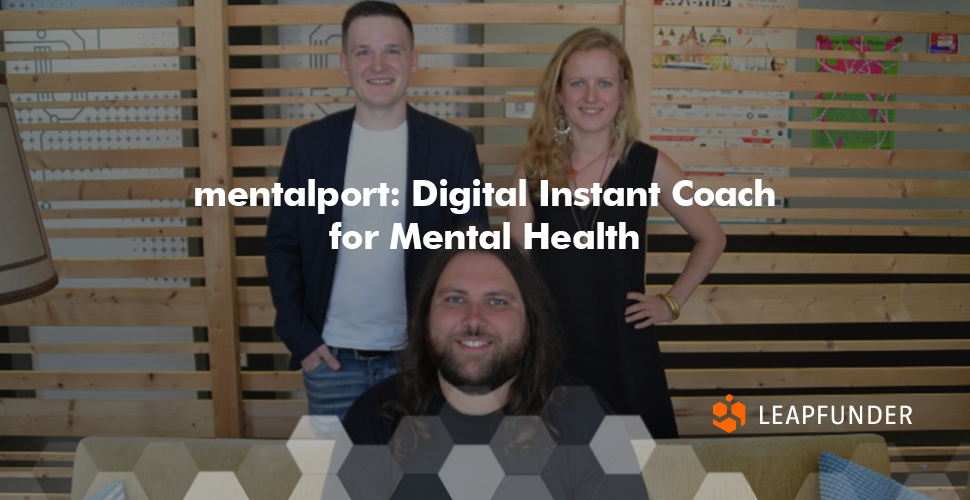 1. Hi Tim, thank you very much for agreeing to do the interview. Tell us about mentalport, the idea that got it all started, and the amazing team behind it.
Thanks for having me. Mental health is my passion, and I've been deepening my expertise for the past 12 years. Despite being mentally strong and well-educated on the topic, I struggled with a mental issue when I studied mechanical engineering. And I realized there is no everyday appropriate solution available to help young end users to achieve their best mental health. Backed by extensive primary market research, it became clear that a smart, not time-consuming solution for everyday life is necessary. During our development, it quickly became clear that we have the potential to be B2B game changers.

Since 2021, our team has grown quickly, and all of us, the three founders and our expanded team share the same vision, drive, and extraordinary passion to make mental health everyday appropriate. We have so much energy that we achieved to develop a pilot-ready and pretty complex mobile app without spending any money!
In particular, our CPO Andrea, our CTO Jens, and I, as our CEO, complement each other perfectly, and we love working together. That's why after a draining, long day, we still can't wait to start all over the next morning.

2. What problems are you trying to solve? What are the benefits of mentalport, and why is your startup a product-market fit?
We all know someone who's struggling with a mental health issue. In Germany, companies must perform a risk assessment for mental stress, which is legally required. Employers must introduce occupational health and safety measures to protect the mental stress of employees. The problem is that this process is nearly completely non-digitalized, ineffective, and expensive. At the end of the process, companies are mostly told what the issues are and left alone. Even worse, the full focus is on what the employer needs to do. No solution focusing on employees is available.
Through personified and AI-based mental health instant coaching, we're the first solution to fully digitalize the process of risk assessments. We enable a new level of effectiveness, and, most importantly, we automatically implement the results in individualized coaching for each employee in private use.

We imitate the work of a human mental health coach, and we improve the effectiveness of coaching. Our AI-based coaching and support functions help employees develop themselves further, but they also help companies in several aspects. We release companies from the pressure of introducing health and safety measures that aren't related to the physical work environment, enabling them to comply with legal requirements efficiently and cost-effectively. Also, we strengthen the employer brand and help our partners become better and more successful employers.
3. You have a live round on Leapfunder. What makes it the right tool for your startup, and what do you expect from the round?
Leapfunder is a great tool that fits the needs of our startup. It's easy to use, and we hope to close our funding round soon. We hope to get in touch with as many investors as possible to collect their feedback and possibly collaborate with a small group of them through participation in our round. We want to implement their experience on a mentor level.
4. How much growth potential do you see for mentalport, and what type of investors are you looking to attract in this round?
We consider ourselves a European-wide solution. Our strength is that we don't rely on the legally required risk assessments. It's more of an additional option, so we focus on innovative SMEs and mid-sized companies with about 1.000 employees.
We see that the demand will continue to grow. We must consider that young employees among us, born in 1990 and later grew up and socialized in a time of several megatrends like digitalization and globalization. The problem is that we live under conditions for which the human psyche is not designed. Mental health issues are a causal consequence.
5. What are your plans for the upcoming months? Tell us about your go-to-market strategy and the plan to acquire customers.
Our current goal is to finish 10 pilot studies with 10 various B2B customers. We plan our market launch this summer and have detailed concepts for our marketing and sales team. We will start with a specific customer segment and grow incrementally in the market range we address.

Our strategy is to establish business relations through risk assessments. Authorities control the implementation and maintenance with high possible sanctions more and more. We also focus on specific brand building. For example, we plan to be in a feature film, and there is much more to come.
Thank you for sharing mentalport's story with us, Tim. We wish you the best of luck.
Join our network of startups & investors!