MyStay is a Dutch-based startup with 15 employees, which has expanded from an SBC program in 2016, raising more than 1,4M€. The Van der Valk hotel chain was their first piloting partner and has cooperated with MyStay since day one. Booking.com recognized the platform's potential scalability and offered MyStay to be part of their piloting AppStore called BookingSuite. Find out why MyStay is a product-market fit, what type of investors they're looking to attract and why they chose Leapfunder as their online funding platform.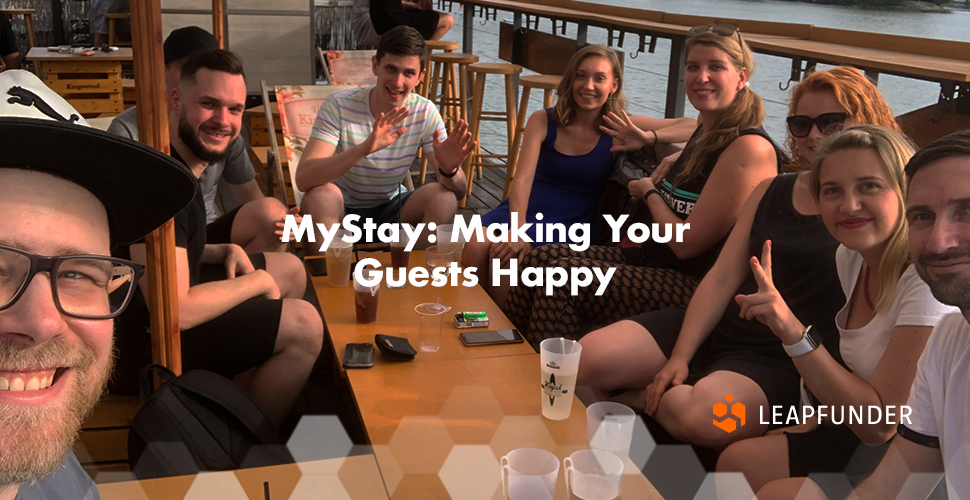 1. Hi Radek, thank you for agreeing to do the interview. Tell us about MyStay, the idea that got it all started and the amazing team behind it.
I came up with this idea during my travels outside of Europe a long time ago. I travelled to Sri Lanka alone, so I had plenty of time for thinking. I stayed in a lovely hotel in the centre of Colombo. When I went out of the hotel to see the city, I immediately felt lost. My phone did not have a good internet connection, so I came back to the hotel and had to wait in a long queue to get a paper map at the reception. And I realized that the hotel is not using any digital technology to communicate with me. Whether to let me feel safe or to provide me with further information and services if I am outside of the hotel.
When I got my internet connection, I went to the App Store, searched for 'hotel' and found nothing (in 2012). From that moment, my former company started to make 'apps for hotels'.
In 2016, we were chosen by Startupbootcamp in Amsterdam for the 'Smart City and Living' program. We started this new, Dutch-based company with the vision to create a platform where any hotel in the world can use the 'Guest Experience System'. Our first partner was Van der Valk, the well-known hotel chain.
In 2017, Booking.com offered us to be part of their new piloting program called BookingSuite Marketplace, which is like the AppStore for hotels. It allows hotels to use our services through Booking.com simply.
2. What problems are you trying to solve? What are the benefits of your product, and why is it a product-market fit?
We help hotels to make their guests happier, more satisfied and connected.
We connect guests with hotels using pre-arrival SMS and emails with a link to the Guest Web. This is a smart website that contains all the information needed in regards to pre-arrival, during the stay, digital check-in, hotel services, tours and activities, and connections to Messenger and Whatsapp. We digitize the administrative work of hotel receptions and offer nice marketing tools.
We run this service for 150 hotels around Europe and even outside of the continent now. We see that on average, guests tend to use MyStay at least 2 times during their visit. It means that many people use and enjoy the platform.
Hotel receptions use the service daily as they need to interact with guests online, so the product-market fit is there!
3. How much growth potential do you see for MyStay and what type of investors are you looking to attract?
We want to grow from 100 to 1000 customers. That means knowing more and diving deeper into different segments. We are finishing to pilot the Van der Valk chain, in order to make sure that the product works for bigger hotels which care about the guests the most.
The huge potential is in single independent hotels. They don't care about the guests as much as Van der Valk does, even though they should. Once we educate that market, there are plenty of opportunities for growth (millions of hotels all over the world).
We are looking for investors with a passion for the hospitality and travel industry. A network in the Netherlands would be the best option for us because it would allow us to step into that market soon.
4. You chose Leapfunder as your online funding platform. What makes it the right tool for your startup, and what do you expect from the round?
We expect to attract smaller investors with knowledge about the hospitality and travel industry. The best option would be hotel owners or managers. We know Leapfunder from the past, we had live rounds in 2016 and 2017.
5. What are your plans for the upcoming months? Tell us about your go-to-market strategy and the plan to acquire customers.
We are diving deeper into the product development, in order to shape the product based on the needs of the hotels. For instance, the digitization of the check-in process attracts almost every hotel. As we are placed on BookingSuite AppStore, customers come to us almost automatically every month.
We expect to improve our digital communications, as we will be more visible on LinkedIn and other searched websites.
We are also in the process of having first talks with big partners that have more than 50 000 hotels in their portfolio. This can turn out to be a nice lift and eventually an exit strategy.
Thank you for sharing your story Radek. We wish MyStay the best of luck!
Join our network of startups & investors!