We interviewed Robin Dohmen, the co-founder of Pitchy, an online pitch tool, and OWOW, a creative agency that designs and develops apps and websites for (funded) startups and corporates. He was fortunate enough to work with hundreds of startups, scaleups and innovating corporates, which is why he's quite familiar with the Dutch startup ecosystem. Find out how he entered the startup world, what is it about startups that particularly attracts him and what are the lessons for founders he learned over the years.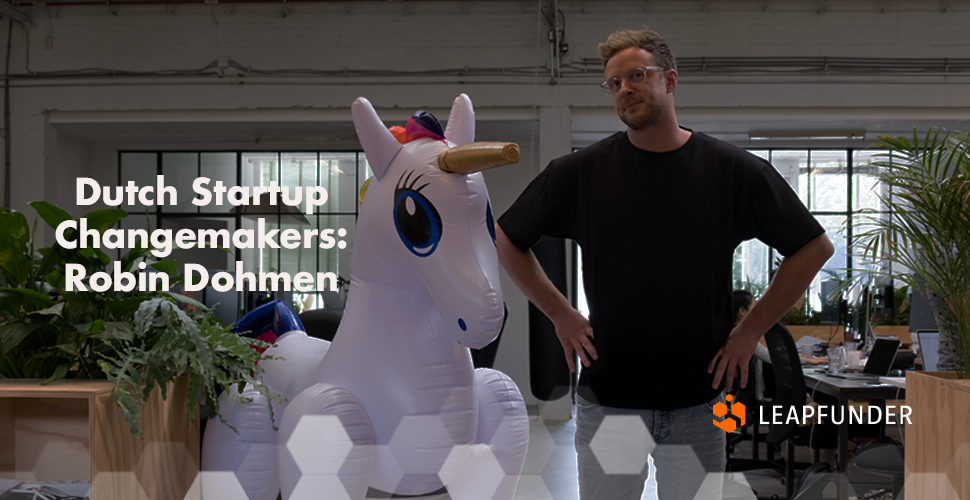 1. Hi Robin, thank you for agreeing to do the interview. Could you tell us a bit about your background and how you entered the startup world?
Ni hao! Many thanks for getting in touch. Long-time! Last time I worked with the Leapfunder team, was during one of the first Startupbootcamp programs. Also, a bridge to my background; I was the Head of Design at Startupbootcamp. And I met the Leapfunder team when they were one of the startups in the Commerce program, back in 2014.
Since then, I was fortunate enough to be working with hundreds of startups, scaleups and innovating corporates. Innovation and communication are the core of my background and strengths.
2. You're the Co-founder of Pitchy, which helps create a more powerful and persuasive pitch. You were also Startupbootcamp's Head of Design. What is it about startups that particularly attracts you?
Startups are (most of the time) building something innovative, something better. That attracts me, as well as highly efficient ways of working.
However, not every startup works efficiently. During my time as Head of Design at Startupbootcamp, I witnessed how much time, budget and energy is wasted by entrepreneurs (both experienced and inexperienced), when preparing for their pitches.
And that's what we will solve with Pitchy. High-quality pitches, in a fraction of the usual spent time and budget. Whether you pitch for investment, partnerships or new clients, there's always a proven method and/or template to follow.
We hope that within a couple of years, all businesses around the globe will spend less time (and budget) preparing pitches, and more time doing what they like and love: their business.
P.S. If you want to learn more about Pitchy, feel free to drop me a line at robin@mypitchy.com.
3. You're also the Co-founder of OWOW Agency, a creative agency that designs and develops apps and websites for (funded) startups and corporates. What is the thing you're most proud of in helping startups, and shaping the Dutch startup ecosystem?
When clients reach their goals, because of our support. It's super cliché, and I hate to brag, but let me brag for a second. Every pitch, whether it's from the CEO of the Rabobank pitching at Money20/20, or the new cohort of startups at Startupbootcamp Dubai, has a goal (investment, partnerships, clients, you name it).
My team and I have done over 500 pitches in the last 7,5 years, but still to this very day I get the chills when a goal is reached. Super proud and happy to be part of this exciting (inter)national innovation and startup ecosystem. Onwards!
4. Please share the top 3 lessons for founders you learned over the years of working with startups.
Ha! Will try to stay away from the clichés.
Number one, the team is everything. We all know it, but still, I see so many egos within teams. I hate internal egos, as they destroy the right culture and mindset of a winning startup team. So, less ego, more winning.
Number two, and another cliché, validation is key. As everything is moving digital, with the right experts on board, all kinds of data can be monitored and used to make the right strategic choices (e.g. which product features are not used, which are, etc.)
Number three, whatever you do, keep it short, simple, and snappy. Attention spans are reducing for your potential investors, partners, and clients as well. Different target groups mean different ways of communicating and different type of pitch decks. Still, to date, I see too many startups only have one pitch deck, for all kinds of meetings they go into — such a shame.
5. What do you predict for the Dutch startup ecosystem in the near future? What are your plans? What will you focus on?
With the excellent support we have in the Netherlands, from government level to all sorts of facilitators, the ecosystem can only grow and grow.
I strongly believe all industries will move as (semi)automated as can be, and/or digital. That's why my focus, besides our digital Agency OWOW, is on our internal startup Pitchy. Pitchy is a tool that helps businesses worldwide – big or small – preparing their pitches in a semi-automated way. As a result, they spend only a fraction of the usual time, budget and frustration: Less time-wasting, more deals made. We're fundraising in Q3 2019, so keep an eye out on Leapfunder or contact me at robin@mypitchy.com.
Thanks for your insights, Robin! We wish you the best of luck in your future endeavours.
Join our network of startups & investors!