obob is an easy to use photo tool for teams in construction, trades and facility management. Making a photo with obob means automatically capturing, documenting, communicating and organising all necessary data around the photos. Therefore, initially, non-descriptive photos become readable, searchable and shareable images. The obob team has a fast pace attitude combined with detailed thinking and agile conceptualisation. Find out why they're a product-market fit, what kind of investors they're looking to attract and why they chose Leapfunder as their online funding platform.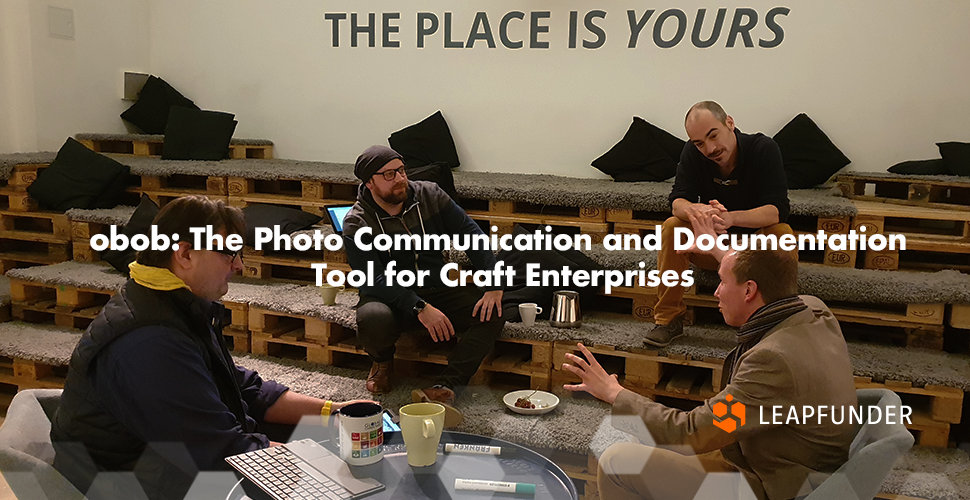 1. Hi Moritz, thank you for agreeing to do the interview. Tell us about obob, the idea that got it all started and the amazing team behind it.
After a year-long experience at gesture-based photo-sharing startup called 'Hoccer', I shared a co-working desk with a trades companies manager. He emphasised that photos are ubiquitous in the construction industry for documentation and communication. Due to the lack of better tools, WhatsApp is used in the industry. Our first prototypes confirmed that photos with readable context information serve all trades and companies, to collect information and to quickly share usable data with colleagues, partners and customers.

As a team, we have known each other for a long time. We met at a 12-month program for founders. We have continued to regularly meet long after the program had finished. We decided to start obob, developed the concept and established the startup (formally in 2017). We have somewhat different characters and competences. When we clash, we find ways to make it work productively! We share similar experiences in startups and big corporations, and our ambition is to make a big difference in a sector we all find increasingly fascinating.
2. What problems are you trying to solve? What are the benefits of your product, and why is it a product-market fit?

Almost everyone in the construction industry, real estate and facility management is using photos for documentation and collaboration purposes. But without context, photos offer little value. Many businesses confirm that they have a lot of photos, but very little idea of what they're about. Many people get lost in the photos over time because they are not aggregated from different users, devices and storage locations. Our photos contain that information and are readable, both to the human eye as well as to clever algorithms.
In addition, they are cloud-saved and easy to share among colleagues and third parties because they remain JPGs, which is a universal standard. That also makes them compatible with all IT systems for planning, documentation and enterprises – they can integrate image formats.
Small and big players need to collaborate; the industry is too fragmented for a big player to fully integrate all subcontractors into one IT system. But everyone uses photos, everyone has a smartphone nowadays, and everyone knows how to use a photo app. obob automatically adds context data, which saves a lot of time.
3. How much growth potential do you see for obob and what type of investors are you looking to attract?

Globally, there's an estimate of 180 million construction workers and tradesmen. Even more, if we add facility management professionals. All of these professionals are taking millions of photos per day, covering basically every construction project and building on our planet.
Therefore, photos present a valuable information resource for all types of participants, including the suppliers and future potential owners, occupants and managers. The photos cover the whole lifecycle of construction projects, including the finished 'object', maintenance and repairs providing us with a lot of business opportunities for our core technology and service.
That is very ambitious and a tough nut to crack. Of course, we can have a nice business operation with a fraction of what is possible, but why stop there? The next steps are important as we aim to scale in about 6 to 9 months. So obob will need larger investments of about €1.1 million. That's quite a mountain to climb, which is why we welcome angels who can help us along the way.
4. You chose Leapfunder as your online funding platform. What makes it the right tool for your startup, and what do you expect from the round?
Leapfunder is good at streamlining the early stage fundraising with terms and conditions transparent to all sides. Normally, we would need more time and resources to get several business angels together in a financing round. Leapfunder allows to aggregate investors over the round period as well as through follow-up rounds – which supports establishing trust between founders and investors. Plus, we don't need to involve law firms and negotiate on contractual terms that are likely to change anyway. That benefits both sides.
As a startup, we don't need to raise all the funding at once, and we can stretch early-stage raising over several months. Investors can spread their investment over several rounds and thereby reduce the risk of a one-time bigger investment. Overall, we ideally want to raise €70 to 120K over 6 months. We have detailed spending scenarios in our info memorandum for this round.
5. What are your plans for the upcoming months? Tell us about your go-to-market strategy and the plan to acquire customers.
Currently, we are improving the product, and the market fit through pilot customers, especially in facility management (not to forget our construction industry customers). In the upcoming 6 months, we want to make these clients happy. Then we'll start the scaling.
Facility management has the right mix of demand, deal size and use cases. Both facility management and real estate services have a big need to include the operating 'on-site' service contractors. With facility management as first paying customers, we believe we can steer obob as a product and the development of its features in the right direction.  By the way, facility management is one of the fastest growing industries with annual revenue of more than $800bn and a growth rate of 6 to 8%. Generally, facility management companies are a good fit as they are big enough to close financially attractive agreements with the initially low key, high potential obob implementations.

With our two pilot customers Deutsche Bahn Immobilien (German Railway Real Estate) and Vinci Facilities we have got 2 players from the top 20 facility management companies in Germany.
The construction industry is more fragmented into a lot of smaller firms and a few larger corporations.
An additional go-to-market strategy is to confirm the interest of suppliers to both markets (like wholesale company Würth and an ERP-provider focusing on trades companies). For us, it is important that we don't become a company with a big sales team. The best way to offer a scalable product through digital channels is a great user experience: anybody who can use WhatsApp can use obob.
Our strategy to acquire customers is for obob to be understood and wanted. We want it to become a natural tool to use regardless of what language you speak or where you work. This is the secret for spreading obob like wildfire.
Thank you for your insights, Moritz! We wish obob the best of luck in its future endeavours.