'A Chat With Investors' is our new blog series, in which we ask successful investors to share their knowledge, experience, and tips for both entrepreneurs and beginning startup investors. We had a chance to talk to Martin Amersfoort, who has a Ph.D. in optoelectronics, was a co-founder of a startup and is an experienced investor. Find out more about his background, what is his criteria when investing and what is the most important lesson he learned in his career.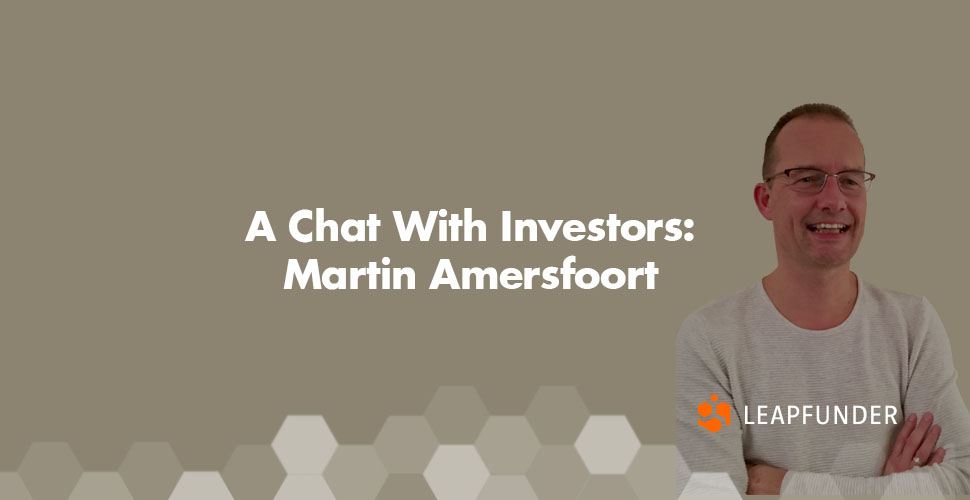 A Chat With Martin Amersfoort
1. Hi Martin, thank you for agreeing to do the interview. Could you tell us a little bit about your background and why you're interested in investing?
After obtaining my Ph.D. degree in optoelectronics I worked a researcher at Bellcore in Red Bank NJ for 3 years. When returning to the Netherlands, as a co-founder I joined a startup in Enschede that offered software for design and simulation of components for fiber optic communication. In 2000, during the top of the internet boom, we sold the company to Kymata, a Scottish company that was also sold to Alcatel one year later. During this period I developed my interest in technology and business trends and at that time I already invested in stock listed companies and made a couple of private equity investments.
In 2004 I had the opportunity to join Booking.com (at that time still a relatively small company of around 100 employees) and experienced the privilege of working in this amazing company in several positions in the web marketing team. About a year and a half ago I found out about Leapfunder. I was immediately attracted to its model, which gave me the opportunity to spread my investments in private equity while making a (small) contribution to the health of the Dutch startup ecosystem.
2. As an angel investor, you must have met a lot of entrepreneurs. What are some of the most innovative ways you've seen entrepreneurs leveraging business to create impact?
What really fascinates me is the creativity of entrepreneurs to invent and create new products and services, in particular, the less obvious ones with the potential to solve some of the harsh important challenges of our time. An example, that I really like is Civocracy, that aims to improve the involvement of citizens in local decision making. For sure not 'a walk in the park' but something worth fighting for.
At the same time, we should realize that innovation is not exclusive to startups. Innovation can (and should) happen in every company every single day. Even at Booking.com, generally considered quite a mature business, we still manage to come up with innovative ways to change almost every single aspect our products or internal processes. There is always an opportunity to improve.
3. Do you ever feel tempted to take an operational role in a company you've invested in and why?
Haha, good question. Yes, in particular having seen plenty of my former Booking.com colleagues start new companies or join early-stage startups, sometimes that thought crosses my mind. At the same time, I know that taking on an operational role in a startup requires a lot of commitment and is not a 9 to 5 job. I remember one late Friday evening when I was making calls on behalf of our startup to potential customers in the US and at some point, the other party said: 'I am going home now, and you should go home too!' I guess that at this point in my life I prefer to avoid these late Friday evenings and have some time left for other important things in life outside of work.
4. What does an entrepreneur pitching his business have to do to get your attention? Do you have some criteria that must be fulfilled before you invest in a company or is it just pure gut feeling?
It is not 100% objective, that's for sure. And a 'gut feeling' definitely plays a role in it. There are, however, a couple of things that I always look at:
Is the company trying to solve a real customer pain point? Ideally, something that I have experienced first hand.
Does the business plan seem realistic and cover all aspects of running a business. So not just a nice technical idea/concept but also addressing aspects such as customer acquisition cost.

Finally, and probably the most important, are the founder(s) genuinely passionate about what they are doing while also humble and open to ideas and suggestions of others.
5. What was your biggest success and your biggest failure as an angel investor? What are the lessons you would like to share with other investors? Do you have advice for beginning startup investors?
So far I have been extremely lucky with most of my private equity investment. But at the same time, I have lost quite some money when investing aggressively in fiber optic stocks during the boom at the turn of the millennium. Even though working in the industry at the time, I did not see the sudden collapse of the market coming. So it was a great lesson in humbleness. When an investment turns out very well it can be very tempting to think that you are just smarter than others. But in most cases, you were just lucky. It takes time to learn that lesson…
Thank you for your insights, Martin! We wish you the best of luck in your future endeavours.
Join our network of startups and investors!