Annegien Blokpoel has been an entrepreneur for almost 20 years and a business angel for the past 12. She is the author of two books: 'Maak Je bedrijf meer Waard' (Improve the Value of Your Company) and Eerste Hulp bij Groeien (First Help When Growing Your Business). She also gives workshops, lectures, and tailor-made sessions according to the Maakjebedrijfmeerwaard (MBW ™) methodology she developed. Find out how she entered the startup world, how she's shaping the Dutch ecosystem, and what lessons for founders she shared with us.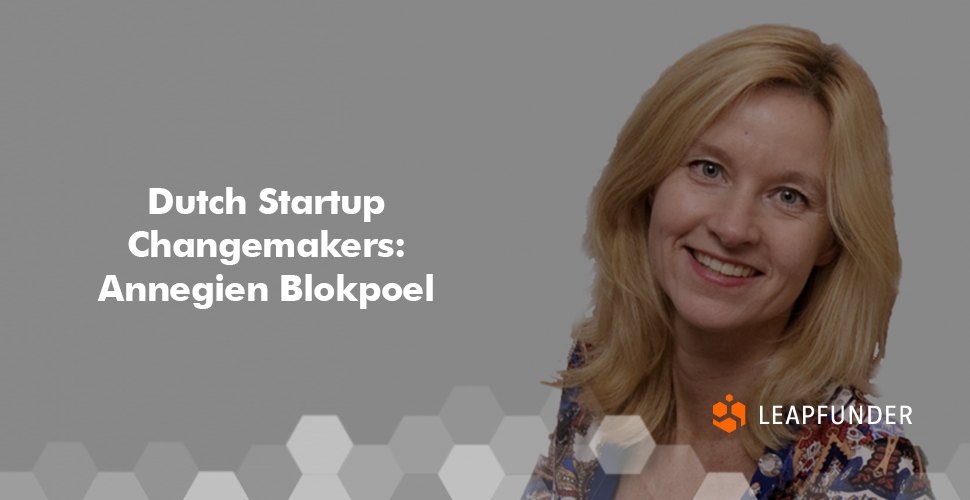 1. Hi Annegien, thank you for agreeing to do the interview. Could you tell us a bit about your background and how you entered the startup world?

I have a background in banking, so I come from structured finance in a merchant bank. My company was acquired by Fortis, which was listed on the Belgian and the Amsterdam stock exchange at the time. I did investor relations for Fortis, so the international capital markets were my clients. I was in corporate life for ten years, so in banking, direct investor relations, corporate communication, and corporate finance. 
Almost 20 years ago, I became an entrepreneur. I was first a strategy advisor for the same type of companies I used to work for, and then I got all these SMEs as clients, and I wrote two books: 'Improve the Value of Your Company' and 'First Help When Growing Your Business' focused on SMEs in growth mode. While I was helping them with hands-on strategy work, I trained consultants on the job in assisting founders to grow their business. I would only invest once in a while in tech startups. 
The first time I started to invest in startups was 12 years ago, and then in 2016, I transferred my program for SMEs, including the consultants and all their clients, and I had my head and hands free, so I developed into an active business angel. For five years now, I have been seriously investing and have become more and more a venture builder.
2. You're the Founder & Managing Partner at PerspeXo, an independent strategic consultancy that has been supporting entrepreneurs since 2008. Tell us more about your mission and the idea that got it all started.
My mission is to help companies grow successfully. PerspeXo is doing different types of work for different type of companies/leaders, with different organizational and strategic challenges. I'm the core, and I work with people that I know very well on these projects for clients. If there's a complicated strategic job for larger companies, I can fall back on some very outstanding professionals. If it's about SMEs, I work together with people that know how to deal with smaller companies
3. What is it about the startup world that particularly attracts you, and how are you shaping Amsterdam's ecosystem?
What attracts me is that the energy level is high. My energy level is high too, so if I work with several startups, I'm basically at my own energy level. The impact of startups is significant. When you work with large companies, there are many zeros in financial transactions, but the growth rate is so much higher with startups. Working both in the corporate and the startup world suits me well, and I love the mixture of the two. 
When it comes to the ecosystem, I'm also quite well connected in Israel and throughout the Netherlands. I try to help startups by making connections to the right investors, the right networks and with hands-on strategy work.
4. As an advisor, could you share the top 3 lessons for founders you learned over the years?
Make sure that you have a good founders' team. With two but preferably three people that can put all their time and effort into the company

Surround yourself with good people that you can get advice from, and don't take it personally. It's not a criticism on you, it's just about perspectives, and you can choose which perspective makes the most sense

Raise money fast in sufficient amounts and start building a team early on. It would be best if you moved quickly once you start growing because it's the riskiest period
5. What's the next big thing in the startup world? What do you predict for the startup ecosystem in the Netherlands in the near future?
I think we're moving towards a whole new level. There are now sufficient early startup initiatives, accelerators, etc. I'm a member of Collider, which is the next phase accelerator for the commercialization phase (when you already have a product, a team and your first clients). 
If you get good mentors and support, you grow much faster. When it comes to scaling, now we have more people that have worked in startups that can help accelerate other startups. So our ecosystem is getting stronger. You see the same with VCs; they have more money, they have learned. So we're collectively moving to the next level.
I find our connection with the German ecosystem quite important. The Dutch and the German ecosystem could work much closer together. I believe Leapfunder is playing a huge role in that, and I'm glad to see companies that work on strengthening this connection.
Thank you very much for sharing your story and insights Annegien. We wish you the best of luck in your future endeavours!
Join our network of startups & investors!