We had a chat with Youri Doeleman, a Partner at Antler, a global startup generator and early-stage VC. His mission is to turn exceptional individuals into great founders that create disruptive tech startups globally. Find out how he entered the startup world, what are the lessons for founders he learned over the years, and what he predicts for the Dutch startup ecosystem in the future.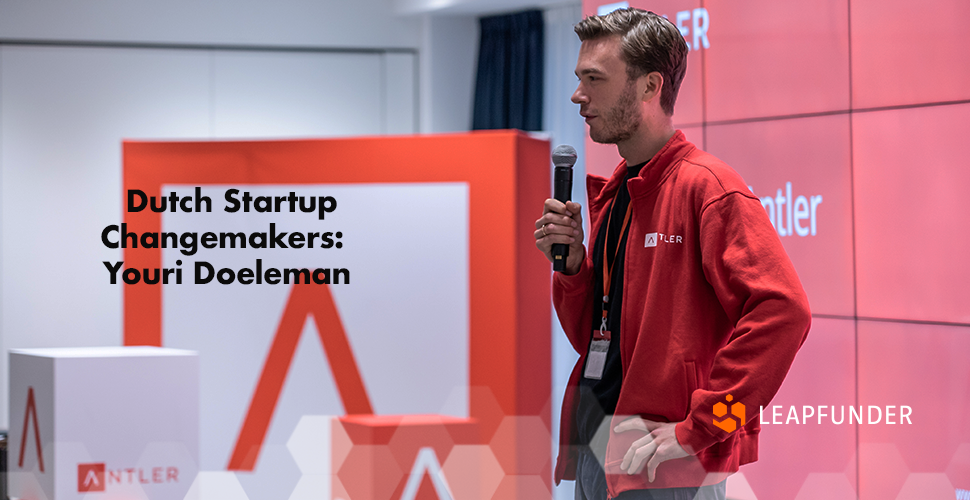 1. Hi Youri, thank you for agreeing to do the interview. Could you tell us a bit about your background and how you entered the startup world?
Thanks for having me! My life and career are marked by the connection of different spaces of human endeavour. I have an MSc in Cosmology, built a deep understanding of business and people leadership as an Associate Partner at McKinsey & Co., helped launch several social enterprises, and performed extensively as a musician. At McKinsey, I focused my efforts on accelerating the digitalisation of large corporations in the telecom and banking industries. It included bringing together cross-functional delivery teams, implementing and scaling up new ways of working and orchestrating company-wide communications and change management. Now I am a partner at Antler. I lead the Amsterdam's office, which is one of the eight locations Antler has. Together with the rest of the team, I proudly drive the launch of new innovative businesses through the company's unique approach to talent acquisition and business-building. 
2. You're a Partner at Antler, a global startup generator and early-stage VC that is building the next big wave of tech. Tell us about your mission there!
The mission at Antler is to turn exceptional individuals into great founders to create many disruptive tech startups globally. In other words, we recruit highly-skilled, determined and brilliant people. Throughout a time-intensive process, we carefully select founders with the most extensive skills, drive and grit to start their company. Founders turn to Antler because we help them find the right co-founder and connect them to a top tier network of advisors and experts worldwide. 
3. With your expertise in at-scale innovation and team-building, you're giving a fresh boost to the startup ecosystem in Amsterdam. What is it about the startup world that particularly attracts you?
The startup ecosystem is truly the birthplace of almost all future innovations. A considerable share of great companies in the future is starting today. You can see this if you take a look at the Fortune 100 and see how many companies have been around for a couple of years or at most a few decades. Innovation is critical for the global economy and human well-being. For startups, it's the place where it all begins. 
In my opinion, there is something very fulfilling about working in the startup ecosystem. I get to work with exceptionally driven and ambitious people, who gave up a lot and took significant risks to try to solve world problems creatively. However, it can also be a tough and harsh environment sometimes. Not only is there a lot of competition but it can also be extremely challenging to set up a great team, to get the first customer or to gain access to the right people that can help set off the business. It's the reason I'm attracted to what I do: being able to make a difference in the stage where there is so much potential yet little help available is very rewarding and exciting for me. 
4. Could you share the top 3 lessons for founders you learned over the years in the startup world?
My first lesson is to be maximally demanding and take bold actions regarding building, growing and maintaining your team. It's like an old saying: 'Hire slow, fire fast.' You should be picky in your choice of co-founder and first employees. If you notice that something isn't working, act immediately. Often, signs of rusty collaboration or communication are reliable indicators that somewhere down the road it can become a more significant issue. From experience, I can say this is something critical to remember.
My second lesson is that you should do your market and customer validation before spending too much time thinking about technological solutions and product visions. There are too many entrepreneurs working on an idea that does not have real demand. Talk to your customers as much as possible from day one, by doing so; you will learn about their problems, be able to test the solution and determine how much value is at stake for them. A beneficial side effect is that you get a sense of what you can charge them for the product or service. 
My third lesson is to think carefully about what kind of business you want to build in terms of how big you want to become and how fast you want to grow. You have to make sure that your financing plan and funding strategy are aligned to that. Once you begin your fundraising process, the investors you speak with should be based on the business model that you want. There are many different types of investors, which all have slightly different preferences and areas of expertise. 
5. What's the next big thing in the startup world? What do you predict for the Dutch startup ecosystem in the near future?
When talking about the startup ecosystem, it's essential to differentiate between countries. In the Netherlands, investors expect more traction, commercial success and validation of the product in the market before they come on board. This known phenomenon is resulting in quite a lot of discussion. In other words, there is a real seed gap, and we need to work together to close that funding gap. One way to do so is by building partnerships between relevant actors in the early stages. With those partnerships, we can connect the pipeline of funding from the pre-seed stage through to where there is currently more capital deployed in the Dutch ecosystem. 
Another increasingly important aspect will be the connection to the international landscape. There are organisations already working in that direction. However, there is more work that needs to be done in terms of connecting the Dutch entrepreneurs to international investors and corporate partners. The Netherlands has a small market, and you need to break out quickly if you want to become a globally scalable company. We need to help entrepreneurs surpass that bar and provide them with a network platform so that they can connect with international investors, clients and corporate partners. 
The last aspect is that more capital from traditional asset managers needs to merge into early-stage investing. The asset managers need to step up their game, skills and knowledge when it comes to private equity and early-stage venture capital. Despite a considerable amount of money available, the majority of asset managers don't know how to deploy into early-stage companies. It's a missing connection between startups, venture capital fund managers and large asset managers.
Thank you for your insights, Youri! We wish you the best of luck in your future endeavours. 
Join our network of startups and investors!