We interviewed Michael Asshauer, founder of Machen and Talentmagnet. Over the last decade, he learned many small but highly effective hacks and tricks from founders, leaders and managers from all over the world. His mission is to pass this knowledge to other entrepreneurs. Find out how he entered the startup world, what is it about the startup world that particularly attracts him, and what he predicts for the German startup ecosystem in the future.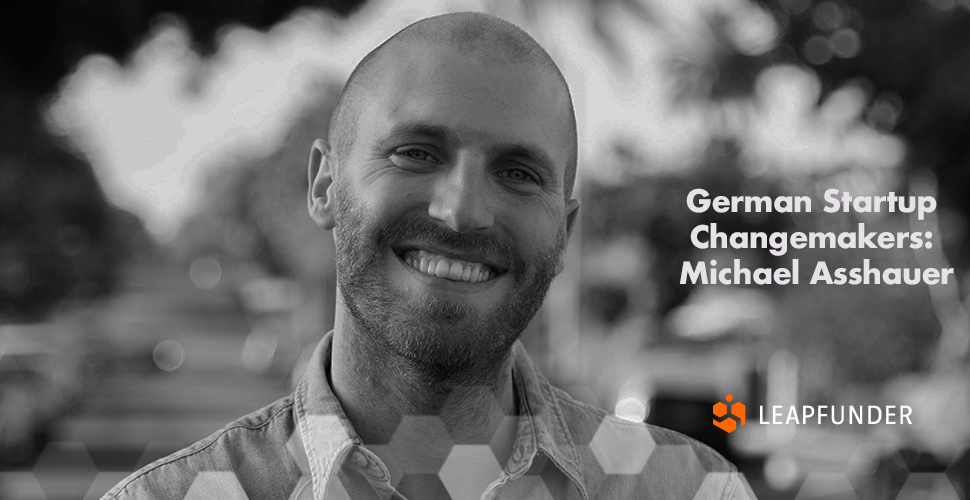 1. Hi Michael, thank you for agreeing to do the interview. Could you tell us a bit about your background and how you entered the startup world?
Thanks for having me! I founded my first startup, a mobile tech company called Familonet, around eight years ago. Over the years we scaled it to around 2 million users around the globe with a team of 30 people. Besides our B2C product, a family locator app, we also created a B2B tech product and founded a product development agency. In 2017, our companies were acquired by Daimler. For the last two and a half years, I worked as Director of Product and Head of Product Design at the Daimler-BMW joint venture REACH NOW, where we've built a mobility app, and did a lot of R&D in terms of how we are going to move through cities in the future. In 2019, I founded my media platform Machen, that provides an online magazine and a podcast for entrepreneurs and leaders. It's about brilliant but straightforward and smart hacks on how to find the best people and how to lead & motivate them. More than 10.000 people already educated themselves on the app. Lastly, I just founded the data-driven recruiting platform Talentmagnet, that guarantees companies to find three perfectly fitting applicants within 14-days for their hardest to fill open positions.
2. Machen is a website that provides tips for leaders and entrepreneurs in Germany. Tell us more about your mission there!
One of the biggest challenges for companies of our time is to acquire and retain the best people and have loyal employees. We're just at the beginning of a worldwide war for talent. This megatrend will accelerate even more within the next couple of years, especially for SMEs, which build the foundation of our wealth and freedom in Europe. Over the last decade, I learned many small and manageable but highly effective hacks and tricks from founders, leaders and managers from all over the world. My mission is to give this knowledge (whereby attracting and retaining the best talent will become much easier) to other entrepreneurs in any organisation. The content will be small, but helpful support to survive this war for talent. 
3. What is it about the startup world that particularly attracts you? How do you feel you're enhancing the startup ecosystem in Hamburg?
One extraordinary thing about working and being part of a startup is to organically make use of what is known as 'new work' without the need to use that word. Another observation I made when switching from the startup world to the corporate world is that in startups, every member of the team is happy to help others. In the corporate world, people have the 'mine and your project' kind of thinking. In terms of the psychological and microeconomic viewpoint, it makes sense, because the only thing they can optimise is their career. However looking from the meta respective to it, it's a burden big corporations have. It leads to situations in which not all the creativity and brains in a team are utilised to solve significant challenges within the company. 
Hamburg has a vibrant startup scene. The city calls itself the digital hub of Germany. However, I think there is still a lot more that can be done. I hope that the COVID-19 crisis will lead to positive outcomes and that all organisations (SMEs, big companies and the public sector) will take steps to get proper and sustainable digitalisation. It would be highly appreciated if the startup scene became more accessible to new entrepreneurs and had less bureaucracy.
4. You're also a consultant for founders and startup teams. Could you please share the three most important lessons for founders you've learned over the years?
My first advice would be to go out and tell everybody about your idea. There are a lot of people who don't want to speak about it until it's released publicly, but this is a big mistake in most cases. If you start telling people about it, no matter who they are, you will always receive feedback that can help you further develop your idea, which is very valuable!
My next advice is to always think, feel, and build your product from the perspective of your user. This perspective should also apply to sales and marketing. There are many great product engineers and designers in Germany, but in sales and marketing, we often desperately fail. Therefore, you should do everything with the problem solution and user benefit in mind; then it will be easier to communicate the benefits to potential clients.
My last advice is that no deal is closed unless the cash is in your bank account. I had to learn this the hard way in the past. For example, when it comes to investment rounds with investors, everything seems to be negotiated, and suddenly when the final signature is due, the whole deal is cancelled. Therefore it's essential for every founder to always have a plan B. 
5. What's the next big thing in the startup world? What do you predict for the German startup ecosystem in the near future?
I currently see two megatrends that create a lot of room for new businesses. The first one is demographic change, due to the ageing population, more people require care. The second trend is the accelerating war for talent all around the globe.
Data-driven tech solutions that are able to tackle one of these trends have the opportunity to be the next big thing in the upcoming decades. Especially In Germany, we might need to rethink our point of view regarding data privacy policies and need to be more open to new concepts and technologies that solve issues in healthcare and talent management sectors. 
Thank you for your insights, Michael! We wish you the best of luck in your future endeavours!
Join our network of startups & investors!