Have you ever been on a guided fishing trip and experienced the excitement of fishing with a pro? With an expert who knows exactly where to go and offers the best advice? That's the idea behind the Fishbuddy app. They've picked the brains of some of the best anglers in each country where they launched. Combining their knowledge with machine learning and satellite data tells you what to catch, where, and how. Find out more about the benefits of Fishbuddy and check out their live round on Leapfunder.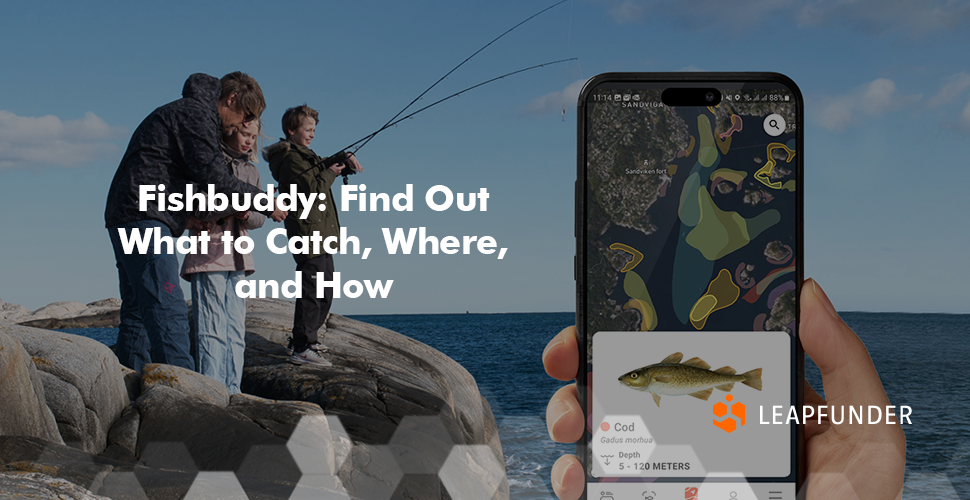 1. Hi Trond Are, thank you for agreeing to do the interview. Tell us about Fishbuddy, the idea that got it all started, and the amazing team behind it.
I got the idea for Fishbuddy when I worked in tourism in south Norway. I wanted to give tourists tips on where to go fishing. That's when I got to know Norway's most accomplished fisherman. "I can give tips on all the fish as long as you give me a good enough map," said Asgeir Alvestad.
So we started working. Since then, we've added some of Norway's most brilliant maths brains to the team. We have the best fishermen and the best mathematicians on our team.
2. What problems are you trying to solve? What are the benefits of Fishbuddy?
The best fishermen tell you what you can fish, where, and how. It's like having the best guide in your pocket when you go fishing. Who wouldn't want that?
And if you catch a fish, take a photo of it. Using game-changing AI and AR technology, we'll tell you what you've caught, how long and heavy the fish is, where it was caught, etc. Interesting information for you, and you also contribute to the sustainable management of Sustainable Development Goal 14; Life Below Water. We provide valid data wherever the app is used.
3. You have a live round on Leapfunder. What makes it the right tool for your startup, and what do you expect from the round?
We use Leapfunder for two reasons:
It's a good fit because we started in Germany last year and are launching in the Netherlands on June 1st, and we have Europe as a specific target
We want good, international owners. Preliminary conversations with potential angel investors at Leapfunder are helpful and inspiring. We have great faith in this concept
4. How much growth potential do you see for Fishbuddy?
Half a billion people fish with a rod in a year. Recreational fishing is one of the world's most popular leisure activities. We're the only service that caters to everyone who fishes. Not just the most avid, those who only fish in rivers, those who only fish from boats, etc. Everyone.
Governments are spending millions of dollars investigating the state of coastal fish worldwide. We have this data. 
The technology we're developing is something no one else has. The Coast Guard discovered it. Others will need us in the future.
5. What are your plans for the upcoming months? Tell us about your go-to-market strategy and the plan to acquire customers.
Until now, we have been working primarily on the product. Yet we have more than half a million users. First, we must tell everyone who fishes that we exist. We need to get more users. So we need to strengthen our marketing department. Secondly, we need to build a platform for big data. Where governments, universities, the EU, tourism organizations, and others can extract data on what is being fished along the world's coasts (and in freshwater). Because with knowledge, we can make Life Below Water better. For the benefit of us all.
Thank you very much for the chat Trond Are. We wish Fishbuddy the best of luck.
Join our network of startups & investors!