Urban Agrotech sells cost-effective plug-and-play vertical farms to high-end restaurants, resorts, and grocery stores while reducing Co2 emissions significantly, using minimum amounts of water. They have developed the farm within a standard 40′ shipping container. Compared to the most efficient competitor in the market, their system boasts over two times the yield and a remarkable 30% reduction in costs. Find out more about the benefits of Urban Agrotech, their growth potential, and their live round on Leapfunder.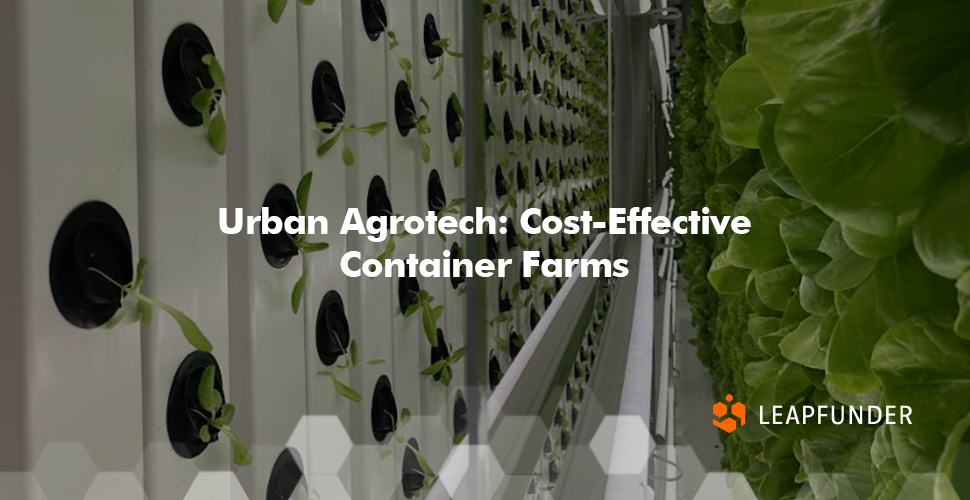 1. Hi Vincent, thank you for agreeing to do the interview. Tell us about Urban Agrotech, the idea that got it all started, and the amazing team behind it.
Since we originate from Westland, the Netherlands, known as the horticultural "Silicon Valley," we recognized the potential for increased efficiency when vertical farming gained popularity in the US around 2018. While existing systems utilized pathways for planting, harvesting, and maintenance, we saw an opportunity to optimize cultivation space by minimizing infrastructure. This gave birth to the central concept of our product—an automated carousel.
 Chris and I took charge and established Urban Agrotech. Soon after, Ton, an expert in cultivation with a wealth of experience as a grower turned international consultant, joined our team. Our collective expertise gave us the comprehensive knowledge required to develop this efficiency-enhancing technology.
To kickstart our journey, we acquired a standard 40′ shipping container, transforming it into our laboratory. Our extensive research and development phase involved designing and rigorously testing the carousel and integrating lighting, climate control, irrigation, automation, and crops. By 2021, we had a minimum viable product (MVP) ready for testing, and over the following two years, we consistently refined our methods and recipes. We even incorporated an automatic spacing option into our carousel, increasing space utilization. The results were remarkable: we achieved over double the yield and a 30% reduction in costs compared to the most efficient player in the market. In 2021, we were granted an official patent for our groundbreaking carousel system, forming our success foundation.
At Urban Agrotech, we are driven by our passion for revolutionizing the agricultural landscape through innovative solutions. Our dedicated team, with Chris's technical prowess, Ton's cultivation expertise, James's sales acumen, and my vision, is committed to leading the way in vertical farming technology.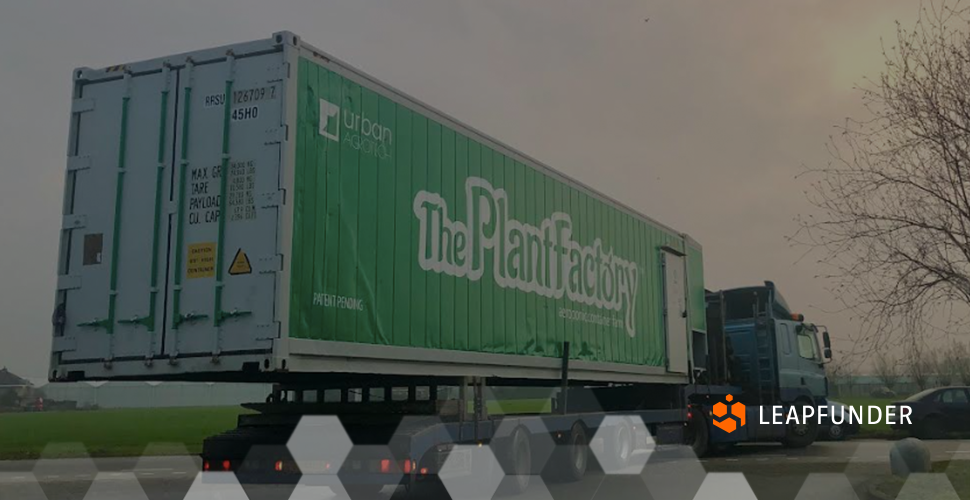 2. What problems are you trying to solve? What are the benefits of Urban Agrotech?
Over the past decade, significant capital-intensive investments have been made in vertical farming, driven by its potential to revolutionize local food production with reduced land and water requirements. However, the industry is at a pivotal moment where businesses now must deliver on promises of productivity and profitability. The vertical farming industry has recently witnessed several setbacks, with several businesses going bankrupt, closing facilities, or ceasing operations altogether. These challenges primarily stem from the substantial energy and labor inputs associated with vertical farming. While the demand for locally grown food remains high, the costs have hindered its competitiveness against alternative (yet unsustainable) food production methods.
We firmly believe that we have found a solution to these issues. Our team has developed a cutting-edge plug-and-play vertical farm housed within a standard 40′ shipping container. Compared to the most efficient competitor in the market, our system boasts over two times the yield and a remarkable 30% reduction in costs. As a result, our approach improves cost-effectiveness and enhances competitiveness. 
The key driver of our system's efficiency lies in our patented carousel system. We are excited about the opportunities it presents for further enhancing yield and reducing costs as we continue to develop our large-scale solution.
3. You have a live round on Leapfunder. What makes it the right tool for your startup, and what do you expect from the round?
As a Netherlands-based company, we find it advantageous to target our fundraising efforts here and in nearby countries. Leapfunder, the largest angel network in Europe, emerged as the most suitable platform to connect with potential investors and supporters.
Through this funding round, our primary goal is to raise €200K, which will empower us to establish three validation projects. These projects hold the key to unlocking opportunities for sales and paving the way for our next VC round. By successfully initiating these validation projects, we aim to demonstrate our startup's market viability and potential, making it an attractive proposition for future investors and partners.
4. How much growth potential do you see for Urban Agrotech?
The growth potential is immense. By 2050, the world's population is projected to reach 9.7 billion people, increasing food demand. However, agricultural land has already peaked, necessitating a more compact and efficient food system.
Our technology provides a promising solution by enabling local and proximity-based cultivation, even in challenging growing conditions where traditional open-field agriculture is not feasible. We initially focus on small-scale vertical farms, but our ultimate goal is to implement our technology in large-scale vertical farms. This will optimize efficiency and reduce costs, making it a more competitive option in regions that rely heavily on food imports.
It's important to note that vertical farming is not meant to replace traditional open-field agriculture or horticulture entirely, as these methods have long been established and are better suited for certain types of crops. However, as the demand for food continues to rise, it is crucial to maximize land utilization and resource efficiency. Vertical farming offers a viable solution to address these challenges.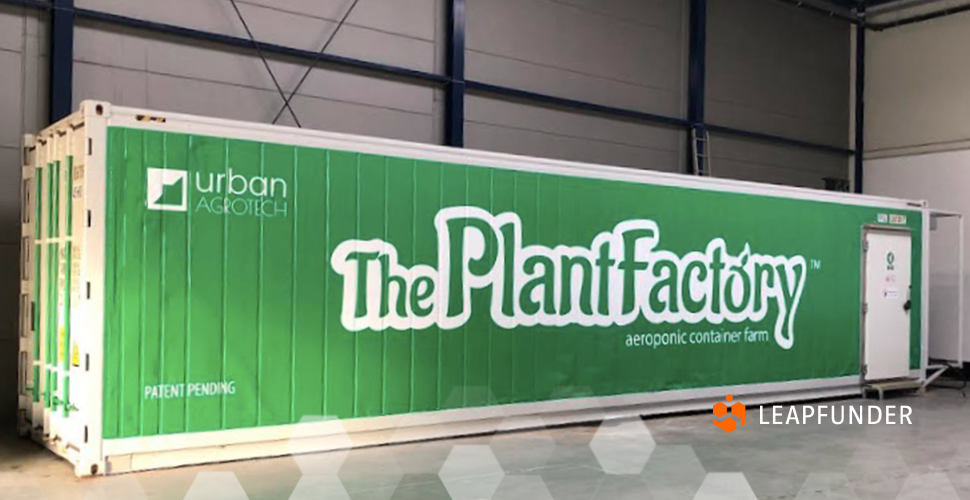 5. What are your plans for the upcoming months? Tell us about your go-to-market strategy and the plan to acquire customers.
We have successfully developed and tested a working model over the past two years. Our extensive testing has demonstrated that our container farms outperform other similar products currently available on the market. In fact, our yields are more than twice as high, while our operating expenses are 30% lower. This outstanding performance is undoubtedly remarkable.
However, to gain the trust and confidence of potential customers, our product must undergo market validation to confirm its unit economics. This validation process will help us gather concrete data and evidence to support our claims.
With the current funding round and additional government subsidies, we can initiate three validation projects in partnership with reputable organizations in North America. These strategic partnerships will allow us to collaborate with experts in the vertical farming industry, ensuring a comprehensive evaluation of our product's performance.
Furthermore, we have already garnered interest from brokers in North America who possess a strong presence in the vertical farming market. Once the validation results are obtained, these brokers will immediately commence sales efforts, leveraging their extensive network and expertise.
By pursuing these validation projects and working closely with reputable partners and brokers, we aim to establish our product's credibility and unlock its full potential in the market.
Thank you very much for sharing your story, Vincent. We wish Urban Agrotech the best of luck!
Join our network of startups & investors!