Kai Malkwitz is an entrepreneur, a business angel and a startup mentor. He offers strategic consulting for organization development, innovation processes and entrepreneurship. His focus is on b2b (or b2b2c) businesses with disruptive potential in Energy, Mobility, and Smart Cities. Find out why he only focuses on impact founders with great visions, what he likes and dislikes most about the Berlin startup scene and what's his advice for someone starting a business.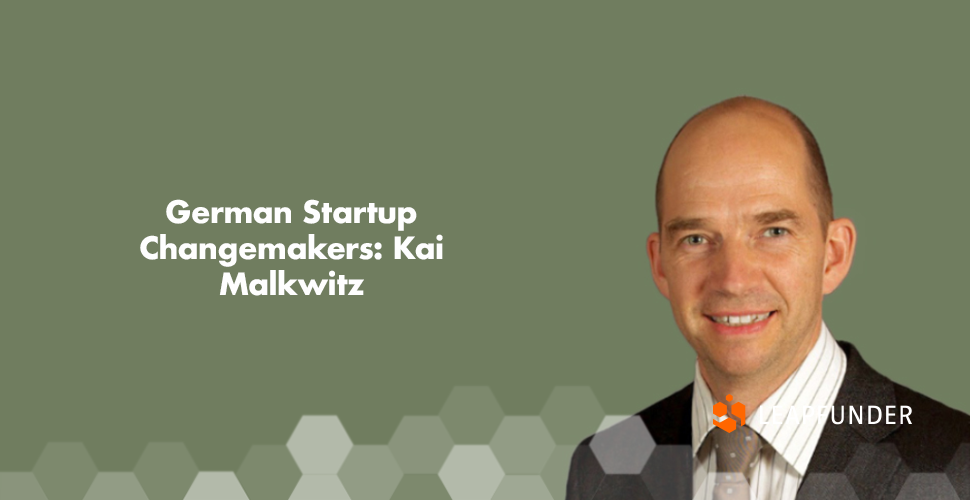 1. Hi Kai, thank you for agreeing to do the interview. It's been a while since our last chat. How have you been? What have you been up to lately?
A lot has happened since our last interview. Who would have thought that we'd be going through a pandemic and a war? The world has gotten worse, and the meaning of being an entrepreneur has become even more important. What I've been up to is working a lot more with accelerators and coaching new founders, focusing 100% on impact founders. We founded IRM (Initiative Regenerative Marktwirtschaft), an NGO that includes many stakeholders and decision-makers of today's society with the goal of developing a strategy on how a truly sustainable economy should work. We call it the "Regenerative Economy".
My own accelerator has always been the Founder Institute Climate Impact Track for more than 3 years now. The whole accelerator scene has become more diverse and more professional, so I'm working with different accelerators as a mentor and I'm running my own program, which is part of the Founder Institute Berlin Chapter. Through these various activities I create a steady deal flow of founders I am coaching for a certain period of time, then I continue to work with a few of them on a long-term basis as an advisor and business angel.
2. What do you like most about the way the startup scene is evolving in Berlin and what bugs you the most?
A general development in the startup scene all over the world is that there are a lot more founders; a lot more startups are being created. There are also smaller initiatives, more HealthTech startups, and a lot more social innovation startups that are getting traction and attention. Since there's a greater need for social and environmental innovation than a few years ago, that's probably where the money will go in the future. Personally, I focus on founders with a big vision, those who are convinced they can make a big impact.
What I really like in the current Berlin scene is that we have more early-stage support for startups. There's public funding going to the startups – the Berlin Startup Stipendium, which is public money for private accelerators. That's fantastic, 50-100 startups per year get this funding.
What bothers me is that public funding is such a complicated process. Half the money is spent to administrate the money, which is a pity. Berlin could do this a lot better. Another thing that bugs me is that professional investors, especially the VCs are still super risk-averse, and we won't get anywhere without taking risks.
3. Do starting founders face different challenges these days? What's your advice for someone starting a business now?
The whole ecosystem has become a lot more diverse and I know a lot of companies that got their first investments through Leapfunder, which is great. But what happens after that? There are still no VCs because they're risk-averse. Getting to the second-stage connections is a big issue that founders are facing.
Another challenge that has grown is finding the right people. More startups mean there are more people needed. Finding employees is super difficult. More than once, I've heard founders say they have the idea and they will find someone externally to execute it. But if you're in tech, you need that knowledge within your founding team, otherwise, you probably won't get very far. My advice is to hire for potential, not experience. Be bold and hire someone even if they've just graduated. Work on your idea, get the right tech people early on – co-found with them, go to an accelerator or maybe a couple of them to learn and then you'll be ready to run a business.
4. What's coming up next in the Berlin startup scene?
Even though it's not easy to predict the future, I know that we have to be ready for quick changes because they will come. Which ones? Difficult to say. More immigrant founders, that's for sure and that's a good thing!
I like the change in the German government. We have new types of fostering entrepreneurship. Berlin will become more modern in terms of mobility, digitalization, and innovation. There is a whole new quarter in Berlin that is built upon a completely new way of living, working and moving.
5. What would you like to change in the current ecosystem? What's crucial for enhancing the ecosystem?
We don't use the potential that we have to the fullest. We have a huge intellectual potential in Europe, in Germany and particularly in Berlin. With the ongoing war, a lot of Ukrainian immigrants are coming to Berlin. Amongst them, the other immigrants and the Berliners, there are a lot of people who want to create stuff. In order to do that, we need money. The sad thing is that the money is there, it's just not spent on the right things because we are not risk-taking enough. We have so many innovations but not enough money is spent on them. If we had the same mixture of nationalities and cultures in the investment and the public scene as we have in the entrepreneurial scene, we wouldn't be facing this problem.
Another thing to focus on is making impact entrepreneurship our USP. Berlin should have the best and most professional impact investors. That would help the city and hopefully the world a lot.
Thank you for sharing your thoughts with us, Kai. We wish you the best of luck in your future endeavours.
Join our network of startups & investors!