We talked to Jacopo Losso, the General Director of EBAN – the European Business Angels Network, an early-stage investor community. Their main mission is to drive successful, responsible angel investment around Europe, and they tackle that by doing many different activities as an organization. Learn about the benefits of joining EBAN, find out how they fuel Europe's growth, and join their next Annual Congress.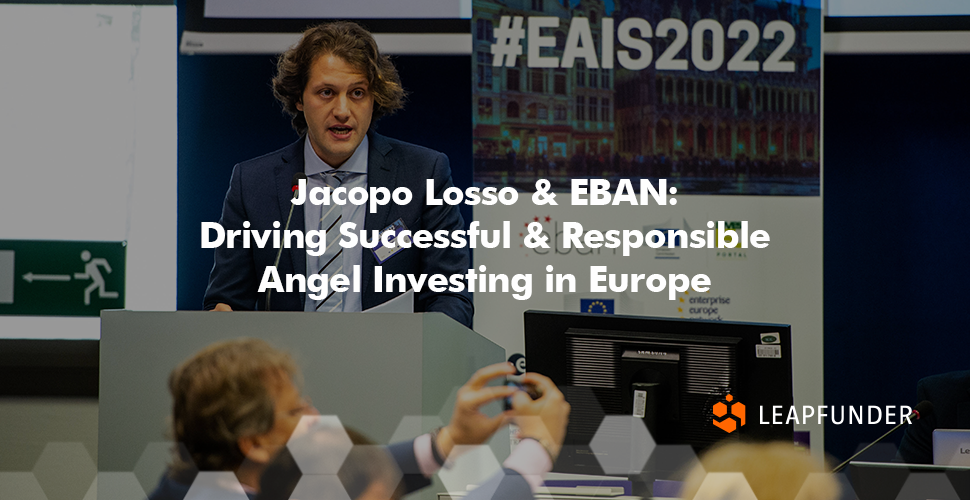 1. Hi Jacopo, thank you for agreeing to do the interview. Could you tell us a bit about your background and how you first connected to the world of angel investing?

Thanks for having me. I've been working at EBAN since 2015, and that's when I discovered the world of angel investing. I studied private equity, venture capital, and startup entrepreneurship at the university to some extent, and of course, I also heard about angel investing. But I got introduced to it when I started working at EBAN right after graduating.
2. You're the General Director of EBAN, which gathers over 100 member organizations in more than 50 countries. Tell us more about your mission.
EBAN exists since 1999, with a goal to introduce and spread the culture of angel investing across the European continent. As a non for profit association, since its very beginning, it's focused on informing and raising awareness about what angel investing is. Secondly, it inspires people to start investing; thirdly, it supports the capacity building of angels.
We focus on connecting people – investors and investor groups- with each other to share knowledge and experiences and to mutually build trust and, ideally, co-invest. In addition, we do a lot of work by sharing best practices on investing. Of course, angel investment is not a perfect science, it's more of a form of art, and we help people learn to invest without making common mistakes. 
Lastly, as a trade association, we're representing the market and the profession to the EU institutions. Primarily, we interface with the European Commission and different agencies/branches/departments of the EU that support innovation, entrepreneurship, and driving private investment. 
We also do a lot of research on the market. Every year we publish different reports, but we're most known for our market study, the EBAN Statistic Compendium, which measures and quantifies investment activity across different European countries.
3. Tell us about the benefits of joining EBAN. Which organizations can become members? 
We have different memberships because we cater to different organizations and needs. The so-called BANs, clubs of angels that are usually investing locally in their ecosystem and supporting syndication and matchmaking between startups and investors, are the core of EBAN.
The organizations that invest in startups over the 20+ years we've been around have changed. There are a bunch of new actors that have joined this space. So we welcome the other early-stage investors, such as VC funds that are focused on pre-seed and seed-stage investing or electronic funding platforms that facilitate deals between startups and investors in an online model. Then there are other stakeholders, either publicly or privately run organizations, supporting startups in accessing finance, which we also welcome to our community.
As for the benefits, EBAN is a place to connect, network, and meet relevant peers around Europe. The access to the network and the connections we provide are a huge benefit. Secondly, we encourage learning from each others' mistakes and best practices, so we, as a platform, allow everyone to share their learnings. Thirdly, a big benefit of joining EBAN is increased international reach and visibility. For example, we regularly co-host our Annual Congress around Europe in different cities every year. It's always an event hosted by an EBAN member and us. The next Annual Congress will be held in Athens from the 24th-26th of May. This is a 500-attendee conference, and over half of our audience is made of business angels. The other half is more or less equally split between the other early-stage investors, so several VCs and other actors who invest in the seed stage. We have a lot of great entrepreneurs in the audience and pitching on stage. It's a great event to connect with everybody relevant, so save the dates for our 2023 Annual Congress in Athens.
4. How does EBAN enable community building across different regions and sectors? How does it fuel Europe's growth?
Nowadays, we're increasingly supporting cross-border deal flow sharing and deal syndication. We very much believe that Europe as a continent has incredible untapped potential and that it's becoming a single market for startups to grow in and a single market for angels to invest in. We work tirelessly to build connections in the community that will eventually translate to cross-border deals.

Recently we started promoting deals led by members, giving them visibility and facilitating the syndication from our community so that we can all co-invest together. We believe that's the way to build more success stories in Europe and avoid these excellent entrepreneurs and companies scaling elsewhere.
5. What do you predict for the European angel investing ecosystem in the near future? What's working well, and what should still be improved?
Since the beginning of EBAN in 1999, we have seen angel investment grow pretty steadily. Especially since 2019, it's picking up a lot of momentum across Europe. From 2020 to 2021, angel investing doubled in Europe, with about €1.5BN invested in 2021.
We know that we're living in a tricky moment with the economic recession. Nevertheless, angels invest their own capital, so they have always been very resilient in times of crisis. In the crisis of 2008-2009, we saw a slight drop, but we also saw a strong bounce back. Although cloudy skies are on the horizon, we believe that angel investment in 2023 will still hold very strong.
Regarding the challenges, we're working hard to inspire more women to become angels, giving them a reliable pathway and entry to the angel investment world. 
Another challenge we're facing in Europe is that we need more investment going into DeepTech and Impact. We can't solve the problems of tomorrow by continuing to invest in things like enterprise software that help private businesses make more money. Of course, these ventures have great returns, but we'd like to see more investment in startups addressing societal and environmental issues. We want to keep driving the impact investment agenda across the community, and we're doing a lot of different activities that will hopefully accelerate investment in this space.
Lastly, we believe in angel investment done in a traditional way combined with angel investing done in a modern and digitalized way. We have a great relationship between electronic funding platforms and angel networks which can leverage each other. We think that angel investment is in continuous evolution as well as in the synergies that can be found between online and traditional investment communities. That's why we're very proud to be working with Leapfunder, a valued member of our association.
Thank you very much for sharing your insights. We wish you & EBAN the best of luck!
Join our network of startups & investors!