wondder empowers people through Virtual Reality. They offer the state of the art Diversity & Inclusion Training – in VR. You can easily become a better leader, colleague, and person with their VR simulations. Find out why they're a product-market fit, learn more about their mission, and check out their live round on Leapfunder.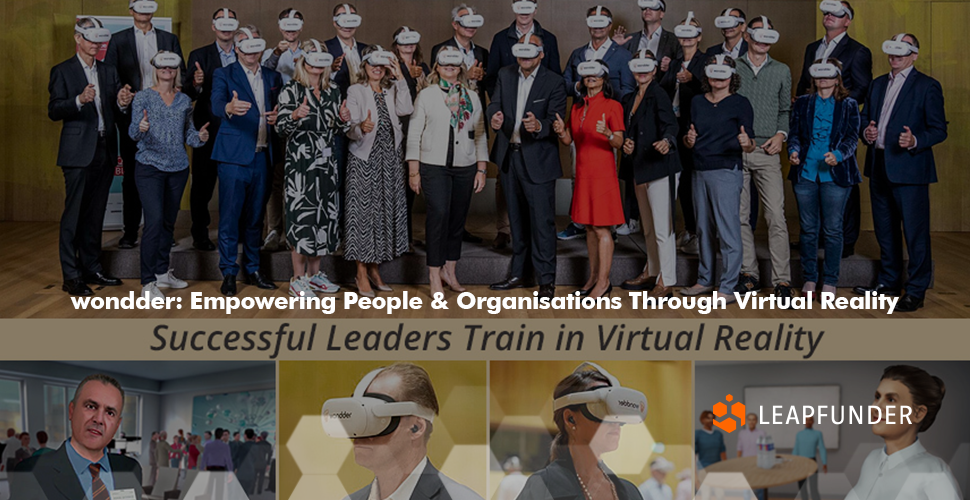 1. Hi Mihai. Thank you very much for agreeing to do the interview. Tell us about wondder, the idea that got it all started, and the amazing team behind it.
Hi, thank you for having us. wondder is a company that uses technology to empower people. We develop experiences in virtual reality, which help people develop, learn, and transform themselves and fulfill more of their amazing potential every day. 
I have been deeply involved with human, personal, consciousness, and leadership development for 20 years. My mentor, Dr. Mariana Bozesan, introduced me to this arena and her business partner back then, the worldwide famous personal development coach Tony Robbins, in 2003. That's when I attended one of Tony's amazing seminars and started my personal and leadership development journey. 
Attending Tony's seminars and, at the same time, exploring many other formats, tools, coachings, etc. over the last two decades made me realize two things: 
We, as humanity, need a massive inner transformation at a global scale. We can achieve the

United Nations Sustainable Development Goals

. We can get out of the mess we are in (including climate change, massive social inequality, and pandemic black swans) if we manage to transform ourselves from the inside. And transformation at scale requires a certain critical mass: 10% of the population, as per developmental psychology. Let's say we're 7BN people on this planet. That makes the transformation of 700M people needed to get out of this mess. And fast, since time is of the essence.

Effective transformational practices are incredibly expensive and inconvenient. Leadership trainings that reach results similar to Tony's will set you back 10-20K EUR for a week. They DO trigger amazing transformation, but can we get that to 700M people? Fast? Probably not. 
So I created wondder to help. We develop the highest quality personal and leadership training, delivered to your office, home, or home office via virtual reality. Now, this method IS scalable to 700M people. So it is a viable way for us to trigger the needed transformation.
After designing the mission, vision, purpose, and strategy, I assembled an incredible team to join me in building this company. I attracted amazing combinations of experiences and skills. We are at the intersection of training and deep tech: these worlds never met. So we need people on our team whose hearts beat for both these worlds. Daniel Houlden, our CSO, is an engineer turned successful sales leader for technology solutions, with a heart for humanity. Damir Simovski, our CTO, has 20 years of special effects in the film industry and is a wizard of emotions, which he now transports into virtual reality trainings.  
2. What problems are you trying to solve? What are the benefits of wondder, and why is your startup a product-market fit?
As mentioned above, we work at the root. As Buddhists say: we are designing technology solutions that help people transform themselves and reach their highest potential. This is the most powerful enabler for anyone to achieve the greatest things they've set their minds to – whether it is solving climate change or ending poverty. 
wondder brings real solutions to these challenges: we have deployed our training in over 10 countries, and we have global companies using our VR trainings and paying for them. You might laugh, but we are actually one of the seldom companies in the startup world that aim to be a real business, where customers buy products for money and return to buy some more, rather than freemium, subsidized pricing, illusions of monopoly grandeur, and so on. 
3. You have a live round on Leapfunder. What makes it the right tool for your startup, and what do you expect from the round?
Leapfunder convinced us with the claim of managing the largest Business Angels Network in Europe. We got streamlined processes for investing and pooling the investors, which is a lot of help when it comes to taking several investors on board. We expect to learn a lot in the process, boost our sales activities and product development, and get investors on board who become allies, supporters, and enablers for the company's growth.
4. How much growth potential do you see for wondder, and what type of investors are you looking to attract in this round?
We are looking at 3x to 6x revenue growth in 2023 compared to 2022. The cap in our convertible loan agreement is currently €3,5M. Our strategy is envisioning a 30x growth in value in the next years. The ongoing round quickly attracted eight business angels who already committed capital out of 20 investor seats. We are looking at attracting more investors with tickets over €25K each to create the maximum benefit for our growth plans.
5. What are your plans for the upcoming months? Tell us about your go-to-market strategy and the plan to acquire customers.
The upcoming months are exciting. We are in the advanced stages with a double-digit number of large clients with whom we had pilot projects in the last 12 months. In January 2023, we were asked to submit a proposal for a project involving the training of 2.5K people, valued at a quarter million euros. 
Further plans for this year include massively increased sales activities, building a solid global partners network, and launching three new VR trainings. We are also launching a new subscription-based model for our VR trainings – opening another abundant revenue stream.
This year is a year of growth for wondder. Join us as one of the few early investors and participate in our development.
Thanks for sharing your story, Mihai. We wish wondder the best of luck.
Join our network of startups & investors!