MPower is a FinTech and Climate Impact startup that revolutionizes energy access in emerging markets by providing SMEs and households with small-scale solar solutions. They've built a B2B platform to deliver green energy and cleantech products to Africans living in hard-to-reach and peri-urban areas. Learn more about the problems they're trying to solve, their growth potential, and their live round on Leapfunder.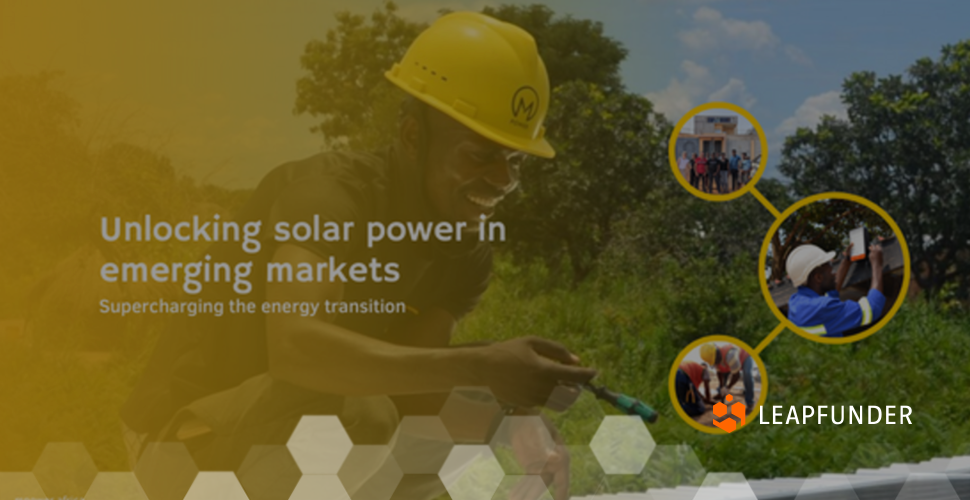 1. Hi Manuel, thank you for agreeing to do the interview. Tell us about MPower, the idea that got it all started, and the amazing team behind it.

While developing utility-scale and commercial & industrial (C&I) solar projects in Africa, I experienced the challenges of energy access and financial inclusion and realized that a huge market potential exists. I was convinced that it would be possible to develop a scalable and effective solution when applying the right business model. Abundant solar resources in Africa, coupled with declining prices for solar technology and storage, make decentralized solar energy the predestined alternative to fossil fuel energy products. 
Therefore, I teamed up with my Co-Founders Michael, Greg, and Alejandro joined soon after. We have since then grown the team to 35 people with diverse backgrounds in sales, business development, finance, software, and on-the-ground experience and expertise in Africa. The majority of the team is based in Africa with operations in Zambia, Togo, Cameroon, Namibia, and Ghana. One of the common factors that drive the team is that we are all strong believers in the potential of the private sector to create sustainable value and economic growth (rather than only NGOs and other non-profit organizations) in emerging markets. 
So we've created a FinTech and Climate Impact startup that's building a platform to deliver green energy and cleantech products to Africans living in hard-to-reach and peri-urban areas. I'm particularly proud of the team and our hands-on, goal-driven approach and the fact that we've already sold over 28,000 units in seven Sub-Saharan African countries as well as built the infrastructure to scale further. By following this approach, we are developing a for-profit and scalable business with a clear social and environmental impact. This has and continues to motivate us day by day. 
2. What problems are you trying to solve? What are the benefits of MPower, and why is your startup a product-market fit?
In Sub-Saharan Africa (SSA), 500M people still lack access to electricity, and many more are connected to unreliable grids. Underserved households and SMEs in SSA rely on expensive, and unreliable fossil fuel-based products that have a significant health and climate impact. In parallel, about 1.7B people globally are financially excluded, limiting their ability to purchase life-improving products, with >50% coming from developing economies. 
Simultaneously, prices for solar energy and storage have fallen by more than 80% since the 2000s and these technologies – solar and storage – have become the preferred power source. However, several challenges inhibit growth in the market:

Lack of affordable financing solutions for end-customers

Unavailability of quality solutions and efficient appliances

Inefficient operations due to an absence of digital tools 

Expensive capital for solar companies and low inventory levels
To unlock this market potential and address the challenges, we've set up a B2B platform and a 360° solution offering and financing solar energy and a variety of cleantech and solar appliances at affordable costs. We thus combine cost-effective, high-quality solar and cleantech products with affordable financing for end-users while optimizing operations for distributors with our in-house software solution to make products accessible. 
3. You have a live round on Leapfunder. What makes it the right tool for your startup, and what do you expect from the round?
Leapfunder is a great vehicle offering investment opportunities to smaller angel investors. This is precisely what MPower was looking for given that we wanted to open up the round to smaller investors interested to join our journey with a smaller investment ticket. 
We're looking for investors that are passionate about our work, our mission, and those who share our plan of building a for-profit and scalable business with a social and environmental impact. 
 4. How much growth potential do you see for MPower, and what type of investors are you looking to attract in this round?
Lack of energy access and high levels of financial exclusion are key global challenges, and Africa is the most affected. This represents a huge challenge, but also a vast market opportunity.
Today, about 1B people globally lack electricity access, and Africa bears the brunt, with > 50% of those affected living in SSA. Furthermore, about 20% of on-grid Africans suffer from unreliable power supply.  And about 1.7B people are financially excluded, limiting their ability to purchase life-improving products. As mentioned above, we solve these challenges by providing quality solar products and facilitating access to much-needed financing for end customers. 
Our long-term vision is to be present in all markets with one of the three "power problems" and good solar resources:
High cost of power

Unreliable grid

Unavailability of the grid
This holds true for many countries in LATAM & the Caribbean, South East Asia, and Africa. There is still a lot of untapped potential in the markets where we're currently present. It's estimated that 4% of the off-grid market potential in Africa alone has only been captured so far. Hence, the market potential is vast. 
In the short term (1-2 years), MPower will focus on deepening its presence in the current markets, and expanding around its current regional hubs, which increases efficiency and ensures reduced inventory levels and related costs.
5. What are your plans for the upcoming months? Tell us about your go-to-market strategy and the plan to acquire customers.
Our focus will be primarily on market expansion and technology development. In the next months and beyond, we will scale our operation around the following growth drivers:
Increasing our distributor and other key partnerships: We will scale within existing markets and penetrate new ones in a streamlined way by growing our B2B, financing, and corporate partnerships, with a swift scale, enhanced by our software platform.

Expanding our product portfolio: We will increase our range of solar bundles and productive use appliances by introducing larger solar systems (e.g. 2.4 kWh systems allowing us to tap middle- and upper-income households and SMEs) and "beyond PV" products such as e-mobility among others.

Further developing our financing offer: We will further develop our existing offerings (payroll deduction, MFI, and corporate schemes) to ensure diversified financing types and reduce credit risk exposure. With the majority of financed sales being made by financial and corporate partners (outsourced consumer financing), we're able to mitigate against default risks, and in the case of our own financing portfolio, we've set up measures to ensure efficient payment collections.
In addition, we're accelerating internal efforts in carbon offsetting to create new revenue streams from CO2 offsettings. We're already looking into our first project in partnership with South Pole.

In conclusion, we're convinced that our model positions us perfectly well to lead the "energy transition" in Africa and positions MPower as a B2B platform that goes beyond power allowing us to increase our growth potential in the next years ahead.
Thanks for sharing your story, Manuel. We wish MPower the best of luck.
Join our network of founders & investors!