Moovick's technology is based on an algorithm that matches its clients with the most reliable moving companies and handymen. They created an Uber-like experience, which allows you to book all kinds of home improvement and moving services from the comfort of your couch. Every service provider on their platform is highly experienced, identity verified and possesses all required insurances. Find out more about their growth potential, their live round on Leapfunder, and the type of investors they're looking to attract.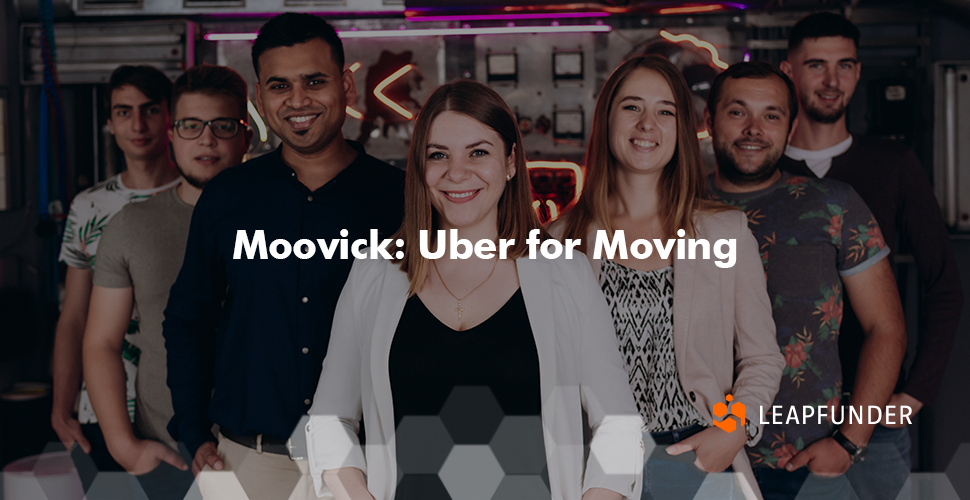 1. Hi Palash, thank you for agreeing to do the interview. Tell us about Moovick, the idea that got it all started, and the amazing team behind it.

Thank you for having us. Moovick is an uber-style app for hiring moving and handyman services from the comfort of your couch. As ex-pats, my wife and I always find it difficult to find a reliable moving company, which can at least speak our language. There are long waiting times, exorbitant prices and no easy way to make a booking. At the same time, we noticed that we are not the only ones who face this difficulty, almost every ex-pat in Germany & the Netherlands struggles with this as well.
So we created a very simple website where moving companies and handymen can register and offer services to clients around them. Fast forward two years, and we are now a team of 12 great developers, designers, marketers, and community managers. Moovick's algorithm matches hundreds of clients every day with a reliable service provider using an interactive web platform or an iOS & Android app. We are currently offering our services in every major city in Germany & the Netherlands.
2. What problems are you trying to solve? What are the benefits of Moovick, and why is your startup a product-market fit?
A major challenge for ex-pats while changing homes is the accessibility to local movers and handymen. At the same time, there are excellent moving companies that don't have the means to reach ex-pat clients without a high marketing budget. Moovick's app makes it easy for both parties to join the platform, do a secure booking and have 24/7 English-speaking customer support.
Moovick's user base exceeds 20,000+ with a network of 600+ service providers. Most of our users join the platform with references from friends and colleagues. On average, a user requires about three minutes to book a service through our platform. And the ones who book moving services also use the platform to book handymen and home improvement services. There is no other platform in the market that offers all these services in one place.
3. You have a live round on Leapfunder. What makes it the right tool for your startup, and what do you expect from the round?
The best thing about Leapfunder is the possibility to get in touch with investors without losing much time searching for them on our own. 
Additionally, all contracts and legal documents are already in place, which takes away the hassle of dealing with each investor separately.
4. How much growth potential do you see for Moovick, and what type of investors are you looking to attract in this round?
At the moment we are somewhere around €17K GMV a month with organic traffic and €0 ads spending. However, during the month of September 2022 when we spent about 300€ in FB paid ads, we got a boost of 170% and the revenues were at around €38K. 
This shows the potential of paid ads in our niche. We aim to reach around €11M GMV by the end of 2024 which is possible if we process about 10K bookings. We have already developed the funnel to reach this goal. All we need are investments to fuel our engine with paid ads. 
We expect the potential investors to understand our niche, get involved in our project, share their expertise and help us grow our business client network.
5. What are your plans for the upcoming months? Tell us about your go-to-market strategy and the plan to acquire customers.
Our platform and app are already on auto-pilot mode in Germany & the Netherlands. With minimum effort, we are getting conversions and new clients every day. 
Now is the time for us to expand into new markets and approach new business clients. Our goal in 2023 is to expand to the UK and Switzerland, replicate our learnings from previous markets and become popular there.
The reason we chose these markets is that most of the companies have head offices there and a lot of their employees are moving between mainland Europe and the UK. Each move would generate a revenue of close to €4-7K. Our strategy is to show corporate heads how Moovick can take away the stress of searching for moving companies for their employees.
Thanks for sharing your story, Palash. We wish Moovick the best of luck.
Join our network of startups & investors!