We chatted with Myrthe van der Erve, a true changemaker and the CEO at TNW, a company unique in its business model. They host one of the leading tech conferences in Europe and write about the latest things in technology for millions of readers every month. Discover why they see themselves as a global super-connector for startups, scaleups, corporations, governments, and investors, and find out what to expect from the upcoming TNW events.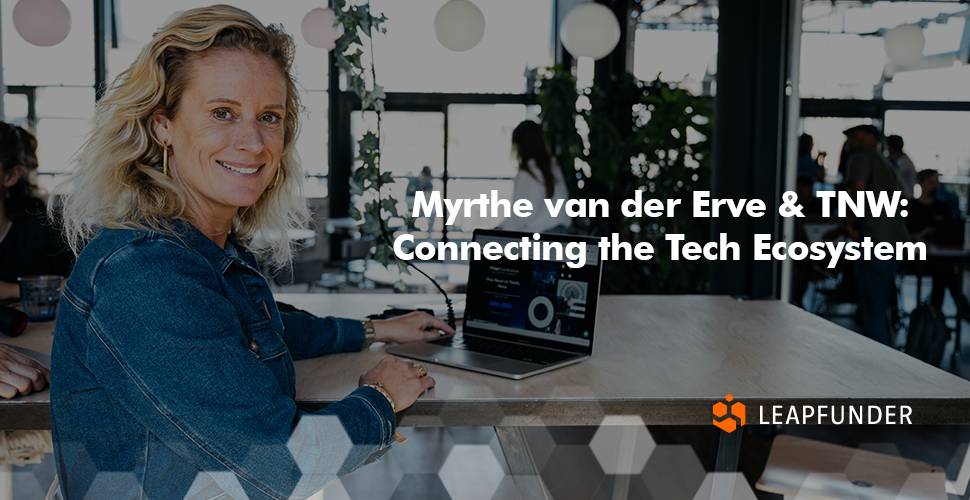 1. Hi, Myrthe; thank you for agreeing to do the interview. Please tell us about your background and your connection to the startup world.
Thank you for the invitation. It's an honor to be listed as a changemaker. I started my career in tech as a consultant, went on to work for a media company, and have always worked in implementing and bringing the next in tech. In the early 2000s, this looked like convincing magazine publishers to move from print to interactive online formats. From quite early in my life, I realized that connecting people excites me the most. Later in life, I combined my passion with my experience at TNW. The tech ecosystem will thrive, and tech will positively impact the world if we can ensure that startups, investors, governments, and corporations work together.
It all starts with success for startups. I love the energy and drive around startups and founders. At our coworking location TNW City, I'm surrounded by them daily. I would love to extend that opportunity to Amsterdam's latest generation of startups: If you're looking for a place that brings together innovation, stakeholders, talented founders, and access to the ecosystem, please reach out to our Spaces team. For the first time in a long time, we have some office space available in our TNW building, which is very exciting. As a passionate leader, I can't wait to see the drive, commitment, and often endless endurance of the next round of founders and their teams.
2. TNW is a company unique in its business model. You host one of the leading tech conferences in Europe and write about the latest things in technology for millions of readers. Tell us more about your mission.
Our mission is to connect the tech ecosystem. We see ourselves as a global super-connector for startups, scaleups, corporations, governments, and investors. We multiply their journeys through media, events, innovation programs, and coworking spaces. Our vision is to be the heart of tech. 
Let me tell you what our mission statements mean in a story. This story is about Elena. She visited our conference in 2018, and it was the first tech event she ever went to. It motivated her to move to the Netherlands and get a job at Booking.com. Now she has her startup and is a resident of TNW City (our coworking space in the heart of Amsterdam). This is why we do what we do with such great passion. 
3. Where will industry leaders and tech enthusiasts be able to meet in 2023? When and where are the next TNW conferences taking place? What can we expect? 
Our big event is the TNW Conference in Amsterdam on June 15th and 16th. We expect more than 10K founders, investors, decision-makers, and tech enthusiasts to come together to explore "what's next in tech." Make sure you don't miss your chance to get a seat.
I'm also very excited to organize our first TNW Valencia conference on March 30th and 31st. The City of Valencia is unique and a dream setting for our event, especially the Marina, a startup paradise. In Valencia, the strong government mandate and the coherence of the local ecosystem make it an excellent launch pad for a TNW conference. We often talk about the right momentum, which is what we need to deliver a successful event.
4. What is it about tech that particularly attracts you? How do you feel you're contributing to the ecosystem in Amsterdam and in Europe, considering that TNW conferences are not only taking place in the Netherlands?
At the start of our company over 15 years ago, there was an awesomeness about tech. It was new and brought us solutions that we could never imagine, faster and better. I still believe in tech and think it has a tremendously positive societal role. More than ever, tech is needed to overcome the planet's biggest challenges.
What we've done and are still doing for and with the Dutch ecosystem has inspired us to talk to other European ecosystems. With the local ecosystem at the core, we can bring the right inspiration and global connections needed to reach new levels of growth. We play our part here in Amsterdam and will continue to do so. We're now looking beyond Amsterdam and want to connect other ecosystems in the Netherlands. Our "Road to TNW Conference" is a project with multiple side events across the Netherlands. We collaborate with the local ecosystems (like Groningen, Rotterdam, and Eindhoven) and offer them to become part of the overall TNW festival experience.
5. What do you think works well in the Dutch ecosystem, and what should be improved?
Wow, that's a very important question and not easy to answer. The Dutch ecosystem is an example to many ecosystems in Europe and the world, and we can be proud. The challenge now is to maintain that image and improve it further. Other ecosystems are taking significant steps to improve conditions for more entrepreneurialism, and we are not putting enough effort in to be ready for new levels of growth.
I was in Spain recently and spoke to a high commissioner about their steps to catch up, which is impressive. They learned the hard way through a challenging economic crisis back in 2008 that everyone still vividly remembers. They realize they need a startup climate and are determined to create the conditions for it. They just introduced a new startup law.
Here are a couple of things that I think we should focus on in the Netherlands:
Collaboration within the ecosystem. Only this way we can punch as one

Increasing knowledge in the Dutch government

Uniting different regions in the Netherlands. Looking further than just Amsterdam

More diversity and inclusion – unlocking all the potential talent, which will lead to more inclusive products and services
Thank you very much for sharing your insights with us, Myrthe. We wish you and TNW the best of luck connecting the tech ecosystem.
Join our network of startups & investors!