Tessa de Flines is the Founding Partner at Masters of Scale, which helps fast-growing startups scale successfully. They support their customers in the fundraising journey, from preparation to deal-closing and beyond, including helping solve any scaling challenges that may stand in the way. Tessa is also an Investment Partner at Great Stuff Ventures, an angel cooperative. Find out why she's focused on supporting female entrepreneurs, how she personally supports scaling companies, and what she thinks about the Dutch ecosystem.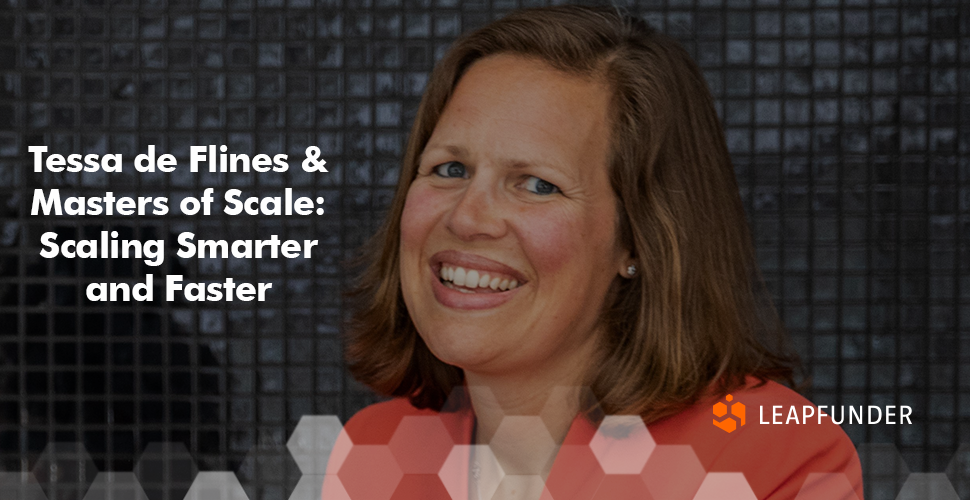 1. Hi, Tessa. Thank you for agreeing to do the interview. Could you tell us about your background and connection to the startup world?

I was born and raised in the US to Dutch parents and started my career in advertising in New York after graduating from university with a degree in marketing. But I soon realized I wanted to do the marketing work my clients were doing. This often required an MBA, so I decided to explore my roots and moved to the Netherlands to get an MBA.
After my MBA, I made a career switch. I got a job at GE Plastics as a Lean Six Sigma Black Belt through my network. I was then recruited by ABN AMRO to improve their business processes internationally. I worked at ABN AMRO for 12 years. I transitioned from leading process improvement programs to strategy, leading a team that developed and implemented strategic growth initiatives for Private Banking International's business unit. 
In 2018, I joined the founder of an insider risk management startup to help her build the business. This didn't work out because the founder took a step back, but it did launch me into entrepreneurship. I then worked at a small transportation company as COO and realized that my passion was working on businesses and not in businesses. 
So at the beginning of 2020, I started as a freelancer to support startups and scaleups with processes, structure, and executing their strategic plans. But my network in startups and scaleups at the time was limited, so I was networking like crazy. That's when I joined Masters of Scale as a Master and quickly became a Founding Partner. 
Having gotten into the startup-scaleup world over the past couple of years, I thought about how can I not only support this ecosystem from an advice perspective but also make an impact financially. So I started talking to my network, and a year ago, I joined Great Stuff Ventures, an angel cooperative. That's proven to be the perfect way for me to do angel investing how I want.
2. You're the Founding Partner at Masters of Scale, which helps fast-growing startups to scale successfully. Tell us more about your mission.
We started Masters of Scale to improve the success ratio of innovation worldwide through entrepreneurship. We saw that many startups were getting around well in the startup phase since there's a lot of support for them in the Netherlands, but when they get to the scaleup phase, they're almost left in no man's land. Now there are some classroom/group programs like the ones Techleap.nl and ScaleUpNation are offering, but there's still less one-on-one support. So we wanted to bridge that gap. 
In the growth phase, there are many new challenges that founders haven't encountered. If you have someone who's been there before and can help you, that can dramatically increase your chances for success. We're very founder-friendly because we're a group of entrepreneurs who always work with the founders in mind.
Our mission is to increase the number of companies that successfully raise funding to scale their company. We accelerate the scaling process to achieve qualified funding, meaning that we help find the best matching investors at the right valuation. We support our customers in the fundraising journey, from preparation to deal-closing and beyond, including helping to solve any scaling challenges that may stand in the way.
3. Next to being the Co-Founder of Masters of Scale, you also fulfill the role of Master for your customers. Tell us more about how you personally support organizations looking to scale.
I've worked for large corporates for quite some time, and I believe there is a need for structure and a solid foundation in entrepreneurship to ensure companies can scale. 
I support entrepreneurs to create streamlined and future-proof organizations (structure and processes), increase employee productivity, and embed execution discipline. Resulting in an organization that is a well-oiled machine with strong execution power that is ready to achieve accelerated scaling.
In practice, this means that I work with founders to, for example, determine priorities, create quarterly planning, clarify roles and responsibilities, improve their organizational structure and governance, and design processes. 
I also provide a similar structure for the work we do with our customers by ensuring we have clearly agreed project objectives, planning, and progress monitoring and that it's clear who is responsible for what. 
4. What about Great Stuff Ventures? You're an Investment Partner there, investing your capital in great people doing great stuff. What kind of ventures are you particularly interested in and why?
I joined Great Stuff Ventures a year ago, so angel investing is still new for me, and I'm in the process of figuring out where my passion lies. One clear thing is that I'm focused on supporting female entrepreneurs. Female founders in the Netherlands face challenges in getting funding, and that's why I'm so actively involved in Female Ventures, a nonprofit that supports ambition, leadership, and entrepreneurship for women in corporates, SMEs, and startups.
I am more interested in companies that are solving an unsolved problem and not just taking a different angle on a problem already solved.
5. What's working well in the ecosystem in the Netherlands, and what should be improved?
As a relative newcomer to the ecosystem, I'm definitely still learning. What's working well is that there's so much high-quality support for startups. There are incubators, accelerators, pitching opportunities, and mentorship programs, so it's very conducive for people to give it a go. At the same time, because there are so many initiatives, it's sometimes a bit overwhelming. It's very fragmented, each city has its own ecosystem, and I don't see them necessarily working together. It's also about making it clear to founders where they can get support. There are so many options that they may not know where to begin. 
Another thing is that there's a lot of focus on startups but not as much on scaling companies. I think that needs to be improved, which is why we want to add more value with Masters of Scale. More startups need to get through scaling to be able to really make an impact. And not everyone has to become a unicorn. We can achieve a lot by companies scaling to a healthy size and adding value to the economy.
Thanks a lot for sharing your story and insights, Tessa. We wish you the best of luck in your future endeavors.
Join our network of startups & investors!