Hayden Young, the Portfolio & Marketing Manager at Antler, is a creative and analytical marketing professional with skills that require both a right and left-brain mentality. At Antler, a global early-stage VC, he assists startups in their fundraising efforts. It's an essential part of any startup's journey, but especially when they're in the preseed early stage. Find out how he first entered the startup world, which lessons for founders he shared with us and what he thinks is the next big thing in the startup world.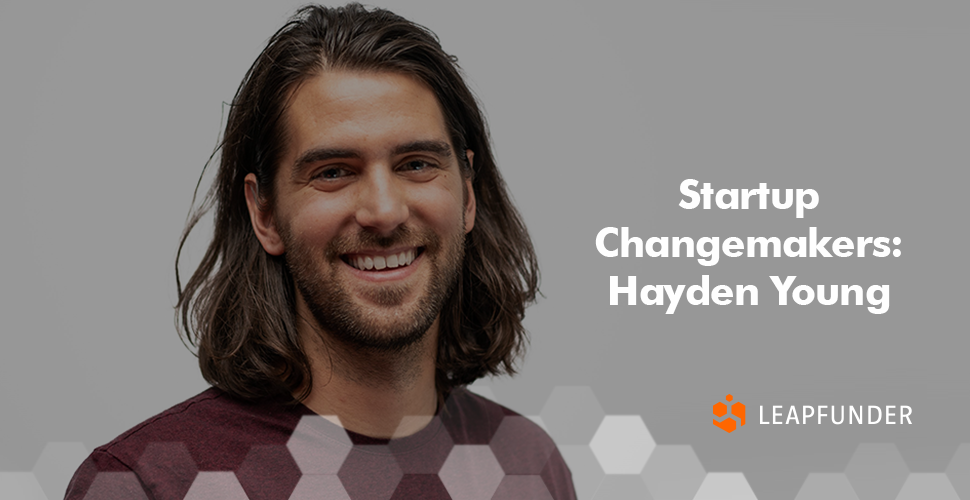 1. Hi Hayden, thank you for agreeing to do the interview. Could you tell us a bit about your background and how you entered the startup world?
I entered the startup world completely by chance. When I joined Antler I was working in the music industry marketing international artists on tours in the US and was working a side hustle for a major label in the beer industry. I decided I wanted to take my marketing expertise and help grow brands from the earliest stages instead of those who were already well established. That's when I stumbled upon Antler. I loved what they were doing and the chance to work with early-stage startups just stood out to me. I had my first interviews while on a beach in Thailand on holiday and the rest is history! 
2. What's your mission as the Portfolio & Marketing Manager at Antler, a global early-stage VC that enables and invests in the defining companies of tomorrow?
I've held a couple of different roles while at Antler. From Marketing to running the local Antler startup program and now managing our local portfolio. All of these different roles have been with the mission to assist our startups in their journey to scale up and take on the world. In my current role as Portfolio & Marketing Manager, I assist the startups in their fundraising efforts which is an essential part of any startup but especially in the preseed early stage. 
3. What is it about startups that particularly attracts you and how are you shaping the startup ecosystem in Amsterdam?
I love seeing the passion that our founders express for their ideas. When you talk to them about their solution you can see their eyes just light up and it feels great to be a part of that emotion or that journey in some way. Getting to be at Antler means you're there basically from the inception of the idea. You really get to see their ideas from a nascent stage like those in our third program to truly taking flight like Clear from our first program back in 2019.

In Amsterdam, we're truly making a difference in the ecosystem. Our programs attract extraordinary individuals from all over the world (20+ nationalities in our last cohort) to build the defining companies of tomorrow. Over the next 5 years, 100s of these changemakers, who will create dozens of globally scalable companies, will be brought to our shores. When you step back and think about this, the impact that Antler will have on our local ecosystem is impressive. I'm excited to see where we go from here. 
4. Antler unlocks the power of the world's most brilliant and determined people to work on some of the most exciting and crucial opportunities and problems of tomorrow. You help them find the right co-founder and connect them to a top tier network of advisors and experts worldwide. Could you share the top 3 lessons for founders you learned over the years in the startup world?
Always be experimenting: what works today may not work tomorrow especially when you are in scaling mode

Test and test and test so you can refine and refine and refine, so you can grow and grow and grow: think through ideas, test those ideas with your users and constantly iterate and improve. Get into this flywheel quick and accelerate it to the moon

Don't underestimate how long everything can take. Fundraising takes a long time and you often need to reach out to hundreds of investors to get the amount of 'yes's' you need. Hiring the perfect candidate will take a long time of convincing them to leave their cushy job and join your tiny startup. Have a plan and understand that you won't always be able to move at the speed you wish you could
5. What do you think is the next big thing in the startup world? What do you predict for the startup ecosystem in the Netherlands in the near future?
It may be a bit out of the left-field but I think startups that are focused on improving infrastructure (both hardware and software-based companies) are going to see a lot of money pouring in post-COVID-19. You see for example this huge $2T bill coming from the Biden administration in the US where companies like Autodesk, Caterpillar and even Intel stand to gain a huge amount from the construction projects that bill will create.
On a smaller scale, I think there are pockets within these areas that have been largely underserved or overlooked because they just aren't sexy. Take our company, vellum.ink, whose technology helps property developers make investment decisions with greater speed and accuracy. I really see this space as something akin to AgriTech 2 years ago. Lots of investors and entrepreneurs overlooked agriculture because it just wasn't very sexy. Now money pours into it like crazy. I think we'll see something similar with the infrastructure technology. 
Thank you for sharing your story and insights, Hayden. We wish you the best of luck in your future endeavours!
Join our network of startups & investors!